7th-12th Grade Showcase Events
Below you'll find registrations for our 7th-12th grade 2018 tournaments, invitationals and showcases.  Please read this disclaimer concerning our tournament waiver of liability: By signing up whether via email or through this website for one of our tournaments, invitationals or showcases, you are acknowledging that your team (participants, participant parents, family members, guardians, and bench personnel) will not hold the Winston-Salem Stealers, 292 Basketball, the Twin City Jazz, the Triad Trackers, the volunteers or staff of these programs nor the Gateway YWCA staff or volunteers for any injury or illness that may be sustained from participation at the event. You understand that basketball is a contact sport and involves strenuous activity and injuries and illnesses do occur.
Visit the Sideline Snack Bar at the Gateway YWCA during all of our showcase events. Chick fil a sandwich:$4.00 Chips:$1.00 Nachos and Cheese:$3.00 Bagels:$3.00 Muffins:$2.50 Cliff Bars:$2.00 Fruit Snacks:$1.00 Fresh Fruit:$1.00 Candy:$1.00 Gatorade:$1.25 Bottled Water:$1.00 Can Soda:$1.00 Sweet Tea:$1.00 Coffee 12oz:$2.00 16oz:$2.50 Latte: 12oz:$3.50 16oz:$4.00 Fruit Smoothies:$5.00 (add 30grams of protein +$1.00)
---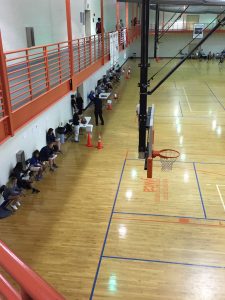 May 18-19, 2019 – Visit Winston-Salem's DII / DIII / NAIA / JUCO College Coaches Team and Individual Showcase
Our 20th annual DII / DIII / NAIA / JUCO College Coaches Team and Individual Showcase is set for May 18-19, 2018 at the Gateway YWCA in Winston-Salem.
There is a 24 team limit for girls teams grades 8-12. There is an early bird discounted cost of $250.00 / team until December 31, 2017 or when the event is full. On January 1, 2018 and after, the cost is $300.00 / team. Use the registration form below to pay. Teams will be listed once they have registered and paid for the event.
There will be an individual showcase during this event as well. More information will be posted soon. (14 spots remain open)
Registered Teams:
Winston-Salem Stealers "Grant" 17U
Winston-Salem Stealers "TBA" 17U
Winston-Salem Stealers "TBA" 15U
Winston-Salem Stealers "TBA" 16/17U
Winston-Salem Stealers "TBA" 14U
James River Blaze 11th Grade
James River Blaze 10th Grade
James River Blaze 9th Grade
James River Blaze 8th Grade
James River Blaze 7th Grade