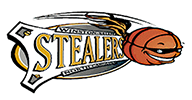 The Winston-Salem Stealers will be celebrating their Silver Year Anniversary … 25 YEARS OLD … in 2021!!!
OUR NEW HOME!!!
The Stealers have a new home!  The old Dudley Cosmetology Campus Event Center in Kernersville is now home our program.  Teach The Game, a developmental program designed to focus on skills and fundamentals and be a feeder / supplement to the Stealers, is part of the facility.
2021 7th-11th Grade Travel Team Tryout Information
The plan is to tryout everyone, with the exception of those in the Class of 2021, March 8-10 (Monday-Wednesday), 2021. Times will be 6:00-7:30 for 7th-9th Grades and 7:30-9:00 for 10th-12th Grades. Click HERE for more information.
1st Annual Bobby Grant Scholarship Fund
We are accepting donations to the "Bobby Grant Scholarship Fund" in any amount. The scholarship is in memory of Bobby Grant, husband of Trish Grant who is a coach in our program.  The scholarship goes to help kids who may have financial restraints and otherwise could not participate in the many programs we offer and to help graduates of our program with expense(s) help for college.
The Winston-Salem Stealers are a 501 C3 / non-profit organization.
You can mail a check for any amount to: Winston-Salem Stealers Girls Basketball / ATTN:Teach The Game – Robinson / 900 East Mountain Street / Building E / Kernersville, NC 27284.  You will receive a letter from us with our Tax ID for your tax purposes.
You can use Venmo: @Teach-TheGame,  Cash App: $TTGWSS or PayPal: www.paypal.me/crcws as donation methods as well.
Amount Raised So Far: $5505.00
25 FOR 25 SPONSOR A STEALER (SCHOLARSHIP PROGRAM)
One of the staples of our organization is never turning away a child or her family because of financial concerns.  COVID-19 has put a few of our families in tough spots which in turn has increased the requests for scholarships.  There is no set goal for our program as donations and requests for scholarships are both rolling processes.  If you would like to donate any amount please use the link below.  You or your business will receive a thank you donation letter from our program which you can use for tax purposes.  Make any checks out to: WS Stealers Girls Basketball / PO Box 5213 / Winston-Salem, NC 27113-5213.  You can also contact Coach Robinson directly at coachrobinson292@gmail.com to donate.  See below to learn about our 25 for 25 program.
25 For 25 Contributors:
Emily Brewer
Tate Chappell
Caroline Davis
Brittney Gammons
Trinity Hairston
Grace Harriman
Peyton Mastin
Annabelle Pirkl
WALL OF FRIENDS… PURCHASE YOUR BUSINESS SIGN TODAY!
There will be a wall dedicated to businesses that would like to advertise in our facility.  The cost is $200.00 for a 3 x 6 sign. Please email a camera ready photograph to Coach Robinson at coachrobinson292@gmail.com.  Use the link to submit your information.
WALL OF HANDS … THAT HELPED BUILD THE STEALERS
The interior left side of Teach The Game Facility #1 will be painted old gold. The wall closest to what is considered the exit door will be known as the "Wall of Hands".  The "Wall of Hands" will be a fundraiser for the Stealers.  For $5.00 you can leave a lifetime memory which is your handprint.  Alums, coaches, current players, and volunteers of our program are eligible to be a part of the "Wall of Hands".
The fundraiser will be used for upgrades to the facility.
Right now, we have reserved space for one hundred hands. A list of who has registered for the "Wall of Hands" can be found below.  Email Coach R and let him know a good time to leave your handprint.
19 hand spots left (alphabetical order); BOLD = Have placed their handprint. 
Kayla Adams
Murphy Andrews
Natalie Axtell
Annalee Bell
Autumn Blankenship
Julia Brown
Monica (Ladd) Burke
Tia Cappuccio
Megan (Buckland) Cavera
Charley Chappell
Tate Chappell
Trista Charles
Millesa (Calicott) Covington
Kaila Craven
Lana (Beeson) Davis
Ashley Deal
Caroline Deal
Katie Deal
Olivia DeFrancesco
Cecilia Drabik
T.J. Eggers
Kyndall Ellison
Nevaeh Fears
Katie Foister
Breanna Foster
Eliza Fowler
Jackie Futrell
Alana Gary
Grace Galyon
Kelly Goliber
Trish Grant
Tyler Hackney
Trinity Hairston
Marlena Hall
Grace Harriman
Nina Holton
Gina (Simmons) Hopkins
Abby Hoyle
Tori Huggins
Armani Hyde
Lauren (Penley) Killilea
Mary Grace Lipscomb
Finley Jarvis
Shannon (McCourt) Jarvis
Adelaide Jernigan
Ella Jones
Bailey Kargo
Campbell Kargo
Katheryn Lyons
Meredith Martin
Lennon Marston
Nolan Marston
Makayla McDonald
Francesca Moya
Megan Myers
Laurie Mulqueeny
Cameron Nieters
Jennifer Penley
Lily Pereira
Deana Pingley
Annabelle Pirkl
Sanaa Puryear
Avery Ray
Hailey Ray
Maisy Roach
Brian Robinson
Charli Robinson
McKenzie Rochford
Isabella Ross
Mary-Ann (Ladd) Ross
Elissa Segers
Brianna Shillito
Elaine Smith
Emily Smith
Alison Sobataka
Amy Steller
Ebone' Stevens
Madi Tyree
Marissa Vernon
Sadie Quinn Wall
Farrahn Wood
GO STEALERS!!!