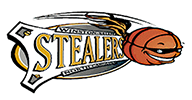 The Winston-Salem Stealers will be celebrating their Silver Year Anniversary … 25 YEARS OLD … in 2021!!!
PICTURES AND VIDEOS
A tribute video is in being created honoring the players, coaches, and moments that have made us the program we are.
Alums, coaches or current players: if you have any old pictures or videos you would like to submit, please do so by emailing Hollie at hollieobowers@gmail.com.
The deadline to submit videos or pictures is September 30th.
WALL OF HANDS … THAT HELPED BUILD THE STEALERS
The interior left side of Teach The Game Facility #1 will be painted old gold. The wall closest to what is considered the exit door will be known as the "Wall of Hands".  The "Wall of Hands" will be a fundraiser for the Stealers.  For $5.00 you can leave a lifetime memory which is your handprint.  Alums, coaches, current players, and volunteers of our program are eligible to be a part of the "Wall of Hands".
The fundraiser will be used for upgrades to the facility.
Right now, we have reserved space for one hundred hands. A list of who has registered for the "Wall of Hands" can be found below.  Coach R will let you know when you can come by and leave your handprint.
70 hand spots left (alphabetical order)
Murphy Andrews
Annalee Bell
Autumn Blankenship
Monica (Ladd) Burke
Nevaeh Fears
Jackie Futrell
Kelly Goliber
Trinity Hairston
Grace Harriman
Abby Hoyle
Lauren (Penley) Killilea
Mary Grace Lipscomb
Adelaide Jernigan
Bailey Kargo
Campbell Kargo
Makayla McDonald
Jennifer Penley
Lily Pereira
Avery Ray
Hailey Ray
Maisy Roach
Mary-Ann (Ladd) Ross
Elissa Segers
Brianna Shillito
Elaine Smith
Emily Smith
Amy Steller
Ebone' Stevens
Marissa Vernon
Farrahn Wood
GO STEALERS!!!