Doris' Heart – Shoe Box Ministry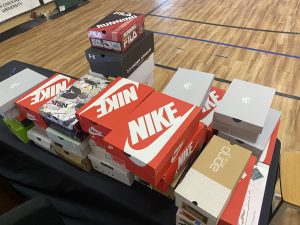 One of Coach R's family friends, named Doris, passed away on April 19, 2023. Her celebration of life service was held on May 6, 2023. Doris helped take care of Coach R a few days after he was born while his mom was sick with a fever and his dad was at work. As Coach R got older, Doris would take him to her basement and show him all of the shoe boxes she had on her tables. She would ask local shoe stores for their boxes and then fill them with pencils, paper, pens, deodorant, toothpaste, etc… whatever the need was, whether it be for school children or those in need of basic daily supplies.
At her celebration of life service, the preacher made mention of her shoe box ministry and how important it was to her.
Coach R has decided to keep her ministry alive through collecting empty shoe boxes at The Maddawg Center. The shoe boxes will eventually be filled with the necessary items depending on the need in the community and distributed.
If you would like to drop off a shoe box or donate supplies or make a donation to purchase supplies, please email Coach Robinson at coachrobinson292@gmail.com.
Thanks for helping something close to Doris' Heart stay alive.
First Cycle (to send out before the start of school):
Starting shoe box goal: 20
Number of shoe boxes collected through May 8, 2023: 31
Deadline: June 1, 2023.
Distribution Date: August 1, 2023.
2nd Cycle (to send out before the holidays):