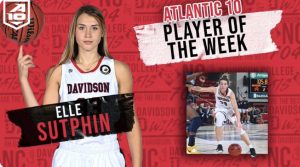 Elle Sutphin Skills Camp – Sunday, July 17, 2022
Winston-Salem Stealers Alum Elle Sutphin will hold a skills camp on Sunday, July 17th at The Maddawg Center.
Elle began her career as a Stealer in the 6th grade and committed to play at NC State before her 9th grade year. She transferred to Davidson after winning two ACC Championships at State.
Elle will hold a skills session for rising 4th-6th graders from 1:00-2:30 and then will hold a higher intensity session for rising 7th-12th graders from 2:30-4:00.
Elle wants to also talk to the travel team members about how to handle the second half of the July period and future college plans.
The cost of the camp is $15.00 Stealers For Life and $20.00 for non-Stealers For Life. Those who are a Camper For Life can attend for free.
Registration will be limited to twenty-four participants per session.
Registrations:
4th-6th:
Makayla Brooks
Juliet Duarte
Ellie Kesler
Cayleigh Love
Brylea McKinney
Olivia Williams
7th-12th:
Charley Chappell
Tate Chappell
Nevaeh Fears
Cora Hadley
Emma Hadley
Jenna Moore
Alexis Waters
Elle Supthin Skills - July 17, 2022