October 24-26, 2022 Group Skills; 6th-8th Grades and 9th-12th Grades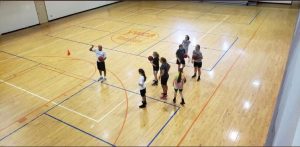 October 24-26, 2022 Group Skills
6th-8th Grade and 9th-12th Grade
Coach R will host a group skills program before the start of school ball season, October 24-26, at The Maddawg Center.
Time Change (changed on 10/18/22 at 10:00 am):
Monday, October 24: 6:00-7:30 pm both groups.
Tuesday, October 25: 6:30-8:00 pm both groups.
Wednesday, October 26: 6:00-7:30 pm both groups.
The cost will be $10.00 / night for Stealers For Life participants, $15.00 / night for those not in Stealers For Life, or $25.00 for all three nights for Stealers For Life or $35.00 for non-Stealers For Life.
Space is limited to fifteen participants per session.
6th-8th Grade Registrations:
Tahali Cardona
Cayleigh Love
Alexis Olive
Kayden Richardson
9th-12th Grade Registrations:
Bailey Aderhold
Morgan Aho
Kallin Favreau
Cora Hadley
Emma Hadley
Jenna Moore
Ashlyn Seivers
October 24-26, 2022 Group Skills