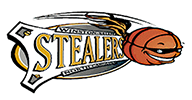 The Winston-Salem Stealers will be celebrating their Silver Year Anniversary … 25 YEARS OLD … in 2021!!!
OUR NEW HOME!!!
The Stealers have a new home! The old Dudley Cosmetology Campus Event Center in Kernersville is now home our program. Teach The Game, a developmental program designed to focus on skills and fundamentals and be a feeder / supplement to the Stealers, is part of the facility.
Many of our planned activities for 2021 were cancelled or postponed due to COVID-19 in the spring and Coach R's work with USA Basketball over the summer.
Heroes Game – MOVED TO 2022.
The heroes game gives our younger players, 2nd-7th grade the opportunity to play with and against the 8th-12th graders in our program.
The 2nd-7th graders can request an older player they would like to with or against in the game.
Registration for the game can be made here. Twenty participants total. Fourteen from the 2nd-7th grade group and six from the 8th-12th grade group.
Registered players:
Tatum Cranford
Grace Harriman (tentative)
Cayleigh Love
Requested players;
Tate Chappell
Adelaide Jernigan
3rd Annual Bobby Grant Alumni Game and Scholarship Fund
We are accepting donations to the "Bobby Grant Scholarship Fund" in any amount. The scholarship is in memory of Bobby Grant, husband of Trish Grant who is a coach in our program. The scholarship goes to help kids who may have financial restraints and otherwise could not participate in the many programs we offer and to help graduates of our program with expense(s) help for college.
The 2022 alumni game will be held in the fall of 2022.
The Winston-Salem Stealers are a 501 C3 / non-profit organization.
You can mail a check for any amount to: Winston-Salem Stealers Girls Basketball / ATTN:Teach The Game – Robinson / 900 East Mountain Street / Building E / Kernersville, NC 27284. You will receive a letter from us with our Tax ID for your tax purposes.
You can use Venmo: @Teach-TheGame, Cash App: $TTGWSS or PayPal: www.paypal.me/crcws as donation methods as well.
---
25th Anniversary Book – Cover Opportunity
Want to be on the cover, by yourself, for the 25th Anniversary Book?
You can signup below and your book will have your daughter's picture on the cover. You'll need to submit a photo of your daughter in her Stealers' jersey by August 20th along with the payment.
GO STEALERS!!!!
25th Anniversary Commemorative Book