CRC PLUS Futures Program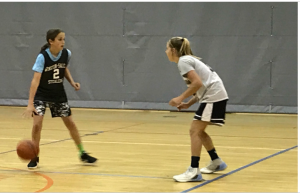 May 10, 2018: 11th grader Lauren Bevis is guarding 5th grader Adelaide Jernigan during a Winston-Salem Stealers practice. Lauren went onto play at Gardner-Webb and was named a 2nd team Big South All-Conference Player. Adelaide is now a rising 10th grader. Adelaide, along with so many other Stealers, had the benefit of practicing, playing and doing skills with the older players in our program.
The CRC PLUS Futures Program is set up to provide our younger players,7th grade-and-below, the opportunity to learn firsthand from our older players, follow a plan that are older players are following towards their potential college career and speed up their overall game by doing both skills work and games against older players.
Many times I hear from parents "I'm worried that my young daughter might get hurt playing with the older girls or the older girls may not pass her the ball and she'll get discouraged". As most of you know, our older kids were once younger kids:
Elle Sutphin, played at NC State and now at Davidson College, was once a 6th grader in our program.
Kaila Craven, who played at Appalachian State, was once a 3rd grader in our program.
LaShaunda Pratt, who played at Boston College, was once a 3rd grader in our program.
Brittany Strachan, who played at NC State, was once a 3rd grader in our program.
Katheryn Lyons, who played at Maryland and then Marist, was once a 4th grader in our program.
And on and on and on… Each one, and countless others, were provided opportunities at the younger age group to practice and play against our older kids. Our older kids, again, were once young, and they remember when they played against our older kids. They remember how they were treated as equals and how that experience allowed for a gain in confidence and a positive step with their skills.
The Futures program gives our younger players a unique opportunity to speed up their game. The Futures program is not for everyone and again, using the "everyone develops at different ages" policy, some will be ready earlier than others, but that does not always equate to success later in the high school years. I'll make sure to give you an honest assessment as to where your daughter is right now so she doesn't get too over her head or so she can take advantage of an opportunity that a lot of others don't typically receive.
Taking advantage of opportunities, especially when younger, can lead to bigger things down the road. No guarantees that big things will happen, but with guidance and parameters in place, good things typically happen. Patience, patience, patience is important.
Coach R