OUR ALUMNI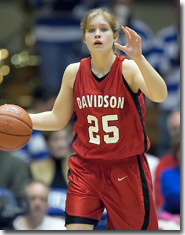 Jessica Mitchell – Stealers 2002-2003
Below Are Some Of Our Notable Alumni Who Graduated From Our Program
155 have played and GRADUATED from our program and then went onto play a sport in college at some level.  Players that have participated in our program and went onto play in college but DID NOT GRADUATE from our program will not be listed.
(Please send any requests in for Alumni that have been mistakenly left off; No college basketball play required to be listed below.)
Our Latest Commitment From Our Program Is: AMANDA FINCH on APRIL 1, 2021 to Pfeiffer University.

Kayla Adams – Guilford
Valerie Beale – Emory & Henry
Kaela Bellefueil – Pfeiffer
Luz Bernal – Piedmont International University
Lauren Bevis – Gardner-Webb
Chante' Black – Duke
Kelli Bonner – Wingate
Lillian Bowen – Piedmont International University
Makala Bozman – Georgetown College
Emily Brown – Lees-McRae
Julia Brown – Western Carolina
Taylor Blakely – Air Force Academy
Faith Blalock – Guilford College
Megan Buckland – UNC-Chapel Hill
Natalie Caldwell -Charleston Southern
Milessa Calicott – Wake Forest
Emily Clapp – Belmont Abbey
Autumn Cole – University of Tampa
Sarah Coltrane – Catawba (Golf)
Sarah Coon – Lynchburg
Brittany Cox – Pfeiffer
Kaila Craven – Appalachian State
Samantha Craven – Pfeiffer
Amanda Cross – Peace
Skyler Curran – High Point University
Jennifer Dameron – Catawba
Tamyka Darden-Phillips – Lynchburg
Alisa Davenport – Queens University
Calyn Davis – Guilford
Daia Dawkins – Meredith
Caroline Deal – Salem
Olivia DeFrancesco – Lynchburg
Katelynn Doub – Appalachian State
Madison Dulaney – Randolph-Macon
Dumebi Egbuna – Emory
Emily Elliott – Lynchburg
Jordan Ellis – Coker
Delaney Fay – Lynchburg
Amanda Finch – Pfeiffer
Erin Fitzgerald – Washington College
Breana Foster – Campbell
Candace Fox – Belmont Abbey
Katie Freeman – Greensboro
Taylor Gantt – Lynchburg
Keri Gardin – Virginia Tech
Alana Gary – Young-Harris
Felicia Gibson – Pfeiffer
Sammi Goldsmith – Lynchburg
Hope Grimes – Catawba
Tyler Hackney – Greensboro College
Ashlyn Hampton – Campbell
Jennifer Havens – Nova-Southeastern
Brittany Hendley
Krissy Hinshaw –
Hannah Hoffman – Guilford
Caroline Houpe – Concord University
Tori Huggins – Emory
Campbell Hutcherson – UNC-Chapel Hill (Softball)
Kristi Ingram – Elon (Golf)
Karley Jessup – Guilford
Tessa Johnston – Emory & Henry
Jessica Joyner – Campbell
Bailey Kargo – Delaware
Annie Kelly – Lynchburg
Abby Kennedy – Guilford College
Mattie Kennedy – Presbyterian
Heidron Kristmundsdottir – Coker
Aleks Kulits – Covenant
Lauren LaPlant – Western Carolina
Stephanie Lawson
Allison Livengood – Roanoke
Katerra Logan – Yale (Track & Field)
Kelsey Long – Belmont Abbey
Leslie Long – Catawba (Golf)
Keely Lundy – Concord
Katheryn Lyons – Maryland / Marist
Meredith Martin – Belmont Abbey
Miranda Martin – Guilford
Aniah McManus – UNC – Pembroke
Victoria McGee – UNC (rowing)
Ashley Melton – East Carolina (Lacrosse)
Hannah Melton – East Carolina (Lacrosse)
Morgan Midkiff – Belmont Abbey
Margaret Minton – Peace
Jessica Mitchell – Davidson
Kayla Mitchell – Peace
Sarah Nelson – Salem College
Catherine Nielsen – Grove City
Cameron Nieters – Harvard
Danielle Nieters – Dartmouth
Gabby Oglesby – Guilford
Isa Pardino – Catholic
Aubriauna Peebles – Emory & Henry
Stephanie Permar – Clemsom
LaShaunda Pratt – Boston College / UAB
Jennifer Penley – Naval Academy
Lauren Penley – Lynchburg
Lauren Ramsey – Guilford
McKinley Rice – Salem
Kristen Roberts -Guilford
Barbara Robinson – Salem
Kayla Robinson – Fayetteville State
Allison Schafer – Mars Hill
Callie Scheier – High Point
Heather Schluepner – Belmont Abbey
Lauren Seegers – Peace
Ayano Shelton – North Greenville
Mallory Sherrill – Lenoir-RhyneGina Simmons – Lenoir-Rhyne
Kasey Smith – Appalachian State (Cross Country)
Kelly Smith – West Virginia
Alison Sobataka – Columbia Colllege
Caroline Spurr – Emory
Megan Stahle – Mary Baldwin
Amy Steller – Guilford
Ebone' Stevens – UNC-Pembroke
Brittany Strachan – NC State
Elle Sutphin – NC State / Davidson
Charity Tillotson – Peace
Paris Trivette – Greensboro College
Amaya Tucker – Winston-Salem State
Brittany Walker – UNC-Chapel Hill (Golf)
Layla Walker – GTCC
Heaven Walters – Guilford
Miracle Walters – Guilford
Anias Weatherly – Guilford
Ginger Wheeler
Erica WIlliamson – Notre' Dame
Farrahn Wood – Appalachian State
Victoria Young – Guilford