Adelaide Jernigan's Blog From USA Basketball's U17 National Team Trials – May 26-May 30, 2022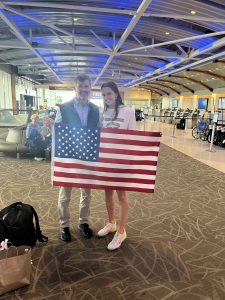 Winston-Salem Stealers Class of 2025 Adelaide Jernigan received an invite to the USA Basketball U17 Trials May 26-30, 2022 held in Colorado Springs, Colorado: LINK.
Adealide will post a daily blog for our program members and guests / those interested here.
GO STEALERS!!!
Sunday, May 29, 2022:
Day 5:
Day 5: What an incredible experience! The morning session was more drills and defense. My body is very tired. Fortunately, I had an ice bath which really helped. The afternoon session involved practicing beating the 8 second half court clock (instead of 10 seconds) and the 24 second shot clock. We worked on some difficult press break scenarios. We then played 4 scrimmages of 10 minutes each. We had some intense games. I found my shot and hit a couple of 3s in one of our wins. Our team went 3-1.
At the end of the day, all players and coaches had a team dinner at 8:00pm, and they announced the 16 finalists.
I want to thank Coach Phillips and the entire USA basketball staff for providing me with this opportunity. I learned so much about myself and what I need to work on going forward. Thank you! Thank you! While I came here to make this U17 team, and I am disappointed that I will not be on the team going to Hungary. Yet I am so grateful for this opportunity. To be able to compete against the best '23s and '24s in the country was an incredible experience. I know what I need to work on, and after a few days off to rest and recover, it will be time to get back to work. I have made great friends from across the country that I look forward to staying in contact with and hopefully reuniting on and off the court. You are an amazing group!
To all the girls that made the 16, I know you will continue the hard work we started and I am confident you will bring home the gold at the World Championships in July. I will be rooting hard for you. #goUSAU17womensbasketball
Saturday, May 28, 2022:
Day 4:
Today was a very long day but I remind myself that it is incredible to be out here playing the game I love at the highest level.
We started off with the morning session mainly focusing on our offense plays and doing transition work. Later, I had lunch and then came back and took a nap. After, I stretched and got ready for session 2 of the day (5 sessions in total thus far) I headed over an hour early to roll out my muscles more and get looser for the last session of the day. In the afternoon session, we focused on offensive moves, some 3 on 3, and then 4 on 4. Then we got straight into playing 5 on 5. My team today went 3-1. The games are 10 minutes running clock. I had some good shots and drives today and facilitating. Later, I talked with coaches and then came back to the dorm and have been resting. My body is incredibly tight, but resting and stretching is definitely better. Thanks and I'll talk tomorrow!! #gostealers
Friday, May 27, 2022:
Day 3:
Today was a great day! I started with a yummy breakfast in the cafeteria and then got ready for team and individual pictures at 9:00a.m. The pictures were a lot of fun! There were 2 practice sessions. The morning session consisted of skills and then a 3 on 3 tournament-more on that. I then had lunch and rested. Then it was back to the gym at 3:00 to get some shots up before our second practice at 4:30. The second practice involved skills, practicing offensive plays and then 5 on 5 scrimmages. The 2 hour practices are very intense and fast paced. There is never any downtime or a moment of pause at practice. While my shot was not falling in the scrimmages, I really focused on my defense. I was able to come up with several steals, a couple that turned into fast break baskets.
The highlight of the day was the 3 on 3 tournament. Our team made it to the finals and got to play in front of all the coaches and other players. We really played well together. We ran several pick and rolls, and our big player found me open on the wing when my defender dropped off to help. Thankfully I was able to knock down several 3s. We won the final. It was so exciting! Today was fun, long and grueling. After a great dinner, I headed to bed at around 10. I cannot wait to get after it again tomorrow.
Thursday, May 26, 2022:
Day 2: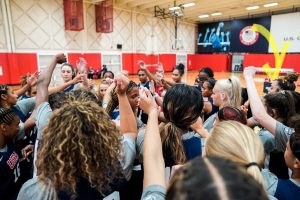 Had a great breakfast, then drove to Olympic Training Center headquarters. I got my roommate assignment- a player from California. I was then given my USA clothing gear that we wear in all practices (all players receive the same items, including shoes). Wearing USA across my chest gives me chill bumps.
We had a meeting with the coaches and all the girls, and then we had session 1. It was an hour and a half with mostly drills. I was so nervous in the beginning but then really got going. The session went by pretty quickly.
After we finished up we all went back to the dorm to shower and then had a delicious dinner on site. The food here is so good. It's 8:00pm here (10:00 at home) and I am about to go to bed because I am very tired but hope all is well back at home.
————————————————————
Wednesday, May 25, 2022:
Day 1:
This morning we headed west from Greensboro to ATL to Colorado Springs. Thankfully we had smooth travels. I want to thank you all for the sweet messages, support, and encouragement. It means more to me than you know. Thank you all.
After a long day of travel we arrived at our hotel in Colorado Springs at 9:20 Mountain Time.
I can't wait to head over tomorrow to the US Olympic training center. I am ready to get this started.