2024 Alumni Team Sponsorship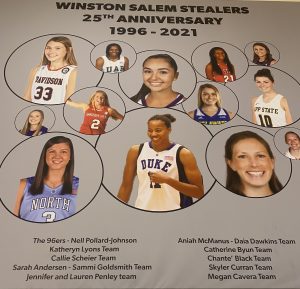 The Winston-Salem Stealers boast one of the strongest, if not the strongest, girls club basketball alumni base around.
In 2021-22 the Stealers offered alums the opportunity to sponsor a team. The Stealers have never accepted a shoe company sponsorship offer in their previous twenty-seven years. The Stealers instead have tried to honor their alums in different ways, one being the alumni sponosorship in 2021-22.
Should you decide to sponsor a team for one year ($300) or two years ($500), you will have your name (or business name) on the team registration for each tournament. For example, when we register a team for a weekend tournament, the team name will read "Winston-Salem Stealers Car Company" or "Winston-Salem Stealers Smith". We will post your team name on all of our social media accounts celebrating all of their accomplishments during the season. We will also have a banner, like the one shown above, hanging at our facility, The Maddawg Center, with your name on it.
Please see the form below and if you have a specific player or team grade that you would like to sponsor, just add that note on the registration form.
Alumni Team Sponsors For 2024:
Chante' Black
Alumni Team Sponsors For 2025:
Chante' Black
GO STEALERS!!!
Alums - 2024 Sponsor A Team