292 – Travel Team, Meetings, and More…..
One of the biggest problems in the world of basketball is that players (and their coaches) would rather be ruined by praise instead of being saved by criticism. Think about it…nothing wrong with some praise, but everyone becomes better because of criticism; that's if they'll accept and then learn and grow from it instead of running from it because they think they are above it.
292 Basketball
Introduction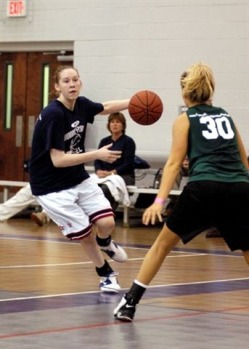 Welcome to the home page for 292 Basketball.  On this page, you'll find information on:
What the purpose and goals of the program are.
How 292 got started and what 292 means.
A brief biography of the program director.
A brief statement of what we try to accomplish and things we try to not promote.
Information on grade-based and individual skills.
Information on 292's Year-Round Team Program.
Other services 292 Basketball offers (Home visits, official and unofficial visits to colleges, academic work, camps and clinics, college contacts, and other consultation).
Purpose & Goals: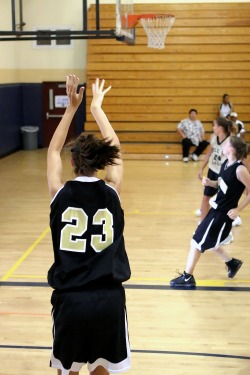 The 292 Basketball Program began in 2003 and has steadily grown over the years.  The purpose and goals of the 292 Basketball Program are to help players with dreams of playing basketball after high school and the parents of those players find realistic opportunities to match their hopes.  The 292 Basketball Program is not an "agency" or marketing program, but instead a service program.  The goals are for parents to learn how the college recruiting process works, which is a very unscientific process in itself, and for players to find ways to make themselves more attractive to college coaches. Please read the information below and remember, if your daughter wants to play bad enough in college, there is a spot for her at some level. The key is to take advantage of all the opportunities that are placed in front of you, on and off the court. It is always easy to place the blame when you don't get what you want, but you have to ask yourself if you really did everything you could to make the dream come true.  Doing things halfway, or when it is convenient, will get you half-results. Also, sometimes you can do everything possible to reach a certain level and it, unfortunately, won't be enough.   The girls basketball recruiting world is a tough one and if your goal is "DI or nothing" then more often or not, you'll be disappointed. Most DI colleges keep a roster of just thirteen players with the maximum being fifteen.  There are a lot of girls to choose from across your state, your region, the nation and the globe. The 292 Program is designed to help you when you may not be receiving the help you need from other avenues (we're more like a backup plan if you need), the keys are to ask questions, do the work, and follow along the plan set before you.
Program History: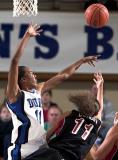 292's Program History began in the summer of 2003 when Mazie Black, mother of Chante' Black, asked me (Coach Robinson) for help in regards to her daughter's college recruitment. I accepted the opportunity and through the process I learned a lot about what college coaches are thinking.  Chante' was a top twenty player in the United States at the time and she was being courted by every big name college coach and program in the nation.  I had the privilege of meeting almost every "big name" college head coach from almost every "big name" college Division I program in the U.S. I listened to their pitch to Chante' about why she should choose their school over another.  I was able to take notes and then ask questions about what they are really looking for in a player.  It was a valuable learning experience for me, and one that I feel very fortunate to be a part of.  That information, I felt, should be shared to other future parents and players in our program, because there is no rhyme and sometimes no reason to the process, but if you stick with it long enough, things begin to clear up and make sense.  Since 2003, 292 Basketball has been able to help sixty-four players (not all being members of the Winston-Salem Stealers Club Program) reach their goal of playing basketball in college, whether it be at the DI, DII or DIII or even Junior College Levels.
Since its inception, over 165 girls have gone onto play basketball (or another sport) in college.  
What Does "292" Mean?
The question comes up all of the time… "292" is the name I came up with for the program from asking questions to those college coaches back in 2003.  I asked a number of questions on what a player needs to have in order to reach a certain level (DI, DII, DIII, etc…) in college.  After listening to the thoughts of numerous coaches, I decided to tally the results and assign a point value to each trait that came from a coach, such as "10 points if the player is over 6'0″ tall, or 7 points if the player can handle the basketball successfully with both hands."  When I was done, the final number came up to 292.  What I then did was divide the 292 points into ranges and see if our program participants fell into that category. For example, if you fell between 275-292 you are probably going to be a Major DI College Recruit, and if you fell between 173-202 you are probably a high DII or low DI prospect.
Program Director Biography:
Brian Robinson is the program director.  Coach Robinson, or Coach "R" began the mother program of 292, the Winston-Salem Stealers, in 1996.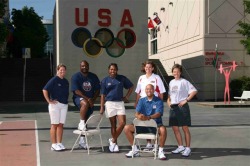 Coach Robinson has a number of experiences in the world of girl's basketball. Here is a brief resume' of some of Coach Robinson's basketball history and accomplishments outside of the Winston-Salem Stealers Club Program and the 292 Program:
---
​1994-1998: 
– Varsity assistant boys basketball coach at R.J. Reynolds High School (Winston-Salem).
Won two conference regular season titles in 1997 and 1998.
Won two conference tournament titles in 1997 and 1998.
1997 NCHSAA Western Regional Semifinals.
1998 NCHSAA Sectional Runner-Ups.
– Head ninth grade boys basketball coach at R.J. Reynolds High School (1995-1997).
– Head JV baseball coach at R.J. Reynolds High School (1995-1997).
​
1998-2002:
–  Head varsity boys basketball coach at Starmount High School (Boonville).
​47-44 record overall.
Qualified for the state playoffs in 1999 and 2000.
–  Assistant softball coach at Starmount High School (1999-2001).
2002-Present:
– Head varsity girls basketball coach at Bishop McGuinness Catholic High School.
– Head girls golf coach at Bishop McGuinness Catholic High School (2003).
– Assistant softball coach at Bishop McGuinness Catholic High School (2006).
The Villains have gone a combined 369-116 in Robinson's first fifteen seasons as a head coach at Bishop.
The Lady Villains won nine consecutive state championships, a North Carolina High School Athletic Association record for any gender or classification in basketball, from 2006-2014.
The nine straight titles rank second all-time in the National Federation of High Schools record books.
The Lady Villains have won five Northwest 1A Conference Championships and seven conference tournament titles.
The Lady Villains have finished in the USA Today Top 25 national poll twice (2006 and 2007).
The Lady Villains have made it to the Elite 8 twelve times and the Sweet 16 thirteen times since 2002.
College Coaching:
In the summer of 2010, Robinson was offered and accepted an assistant coaching position at Southeastern University in Lakeland, Florida.
Southeastern University is an NAIA School which, under NAIA Rules, allowed Robinson to continue his daily activities, including coaching the Varsity Lady Villains.
Robinson's role with Southeastern included "distance" scouting and pre / post-season skill development.
The "distance" scouting translates to uploading video of Southeastern's future opponents, then developing a tendency and scouting report for the team, and sending the report to team via email. The pre / post-season skill development aspect of Robinson's job took place during the spring-fall months, and didn't interfere with his activities with the Lady Villains.
Robinson held the position for one year under head coach Dee Stokes, before Stokes left her position to be professor-only on campus at Southeastern.
Coaching Awards:
Was named the Northwest 1A Conference Coach of the Year in 2005-06, 2008-09 and 2013-14.
In 2009-10 Robinson was selected as the Associated Press' State Coach of the Year.
Is a three-time Runner-Up for the NCHSAA State Coach of the Year in 2005-06, 2006-07, and 2011-12 as voted on by the Associated Press in North Carolina.
In 2007-08 and 2012-13, Robinson was the second runner-up for the AP State Coach of the Year.
Was named Coach of the Year by the Greensboro News & Record in 2005-06, 2007-08 and 2011-12
Named  Coach of the Year by Triad Sports in 2005-06 and 2009-10
Named Coach of the Year by  NCPreps.com in 2006-07.
Won the Homer Thompson Award "Eight Who Make A Difference" at the conclusion of the 05-06 Season.
Was named the PACIS Coach of the Year in 2003-04.
In 2013, Robinson was honored by the NCHSAA to be on their "100 Coaches to Remember", in celebration of their 100th year anniversary of coaches in all high school sports in North Carolina.
In January 2014, Robinson was named as State Coach of the Year by the National Federation of High Schools (NFHS) for the 2013 Year.
In 2010, Robinson was one of four people named a "Living Legend" at the annual "Hang-the-Net" Contest at Hanes Hosiery Recreation Center. Robinson joined Kim Underwood from the Winston-Salem Journal, his former high school head coach Howard West, and former Detroit Lions Head Coach Jim Caldwell in receiving the "Living Legend" award.
USA Basketball:
Robinson also was one of thirty coaches nationwide that took part in the 2005 USA Youth Development Festival held in Colorado Springs, Colorado.
In 2007, Robinson was selected as Head Coach of the USA Basketball Blue Team that took the silver medal at the Youth Development Festival in Colorado.
Robinson was nominated and selected as one of five high school coaches in the nation to serve on the USA Basketball Women's Basketball Development Committee in 2009. This was a four-year commitment. The committee selected the 2009 U16 Team for USA Basketball which won the gold medal at the FIBA Tournament in Mexico City and qualified for the U17 FIBA Tournament in France for 2010.
The 2011 and 2012 Teams that he helped select also won gold medals at the FIBA Tournaments in Mexico and Amsterdam.
In 2010, Coach Robinson was a court coach with two-time gold medalists Ruthie Bolton at the U17 USA Basketball Trials in Colorado. The 2010 U17 Team won the Gold at the inaugural World Championships in France.
In 2013, Robinson was selected as an assistant coach for the USA Basketball Women's National Team. The team went 5-0 in Cancun, Mexico, and won the Gold Medal for the FIBA Americas Championships.
Robinson was selected as an assistant coach again in 2014, this time for the U17 National Team. The team went 7-0 in Pilsen, Czech Republic and the FIBA World Championships.
Coach Robinson attended the USA Basketball National Team Trials in Annapolis, Maryland at the Naval Academy in September of 2014.
Coach Robinson was also the only varsity girls high school basketball coach to be a court coach at the USA Basketball East Regional Skills Clinic in October of 2015.
In 2016, Robinson was selected to be on the three-team national board for USA Basketball's Appeals Panel which handles nationwide appeals for coaching certification and approval of gold licenses.
Women's Basketball Coaching Association (WBCA) High School All-American Selection Committee:
In 2006-07 Robinson was named to the NCHSAA Women's Basketball Sectional Tournament Committee.
In 2007, Robinson was given a three year appointment to serve as the District 3 (North Carolina, South Carolina, Virginia, Maryland, DC) Coordinator for the WBCA All-American Game's Selection Committee.
In 2008 and 2011, Robinson was named a chaperone for the WBCA's High School All-American Game held in conjunction with the NCAA Women's Final Four in Tampa, Florida ('08), Indianapolis, Indiana ('11) and Denver, Colorado ('12).
In 2011, Robinson was selected to be the Chair for the WBCA HS All-American Game Selection Committee.
Professional Organizations:
Club Program:​
Is the founder and president of 292 Real Basketball Report,LLC., in Winston-Salem.
The 292 Program helps girl's basketball players pursue their dream of playing basketball in college.
Volunteers his time as the Director of Basketball Operations for the Winston-Salem Stealers' Girls Club Program in Winston-Salem, an organization he founded in 1996.
Handles the day-to-day operations of the programs, such as practice and tournament scheduling, club registration of the players and coaches, and web site maintenance.
Helps instruct and groom the head and assistant coaches of the teams in the program, but, as of August of 2004, does not coach any of the Club Teams in the Stealers' Program.​
In 2014, Robinson's club program was selected to be one of twelve organizations nationwide to be a USA Basketball Youth Pilot Program.
Founded the Twin City Jazz boys basketball program in 2014.
Head Coach the Triad Trackers adult wheelchair basketball team based out of Winston-Salem (2013-present).
The Trackers were founded in 1988 and qualified for the wheelchair basketball nationals for the first two times in program history in 2017 and 2018.
Graduation and Degrees:
Robinson graduated from Appalachian State University in 1994, with a degree in Business Administration.
Professional Speaking:
Also in 2007, Robinson received an invite to, and then spoke at, the Georgia Tech Women's Basketball Coaches Clinic in Atlanta, Georgia.
In 2008 at both the University of Florida's Women's Basketball Coaching Clinic (after working elite camp there in 2008).
Also in 2008, Robinson spoke at the first annual Duke Women's Basketball Clinic.
Coach Robinson has spoken at the first annual Westchester Country Day School Coaching Clinic in 2012.
Spoke at the first annual Triad Basketball Officials Association Clinic in Greensboro also in 2012.
In 2013 and 2014, Robinson spoke at the North Carolina Coaches Association Coaching Clinic in Greensboro.
In 2015, Robinson was a speaker at the first-ever USA Basketball Youth Development Coaching Academy which was held in Las Vegas, Nevada and was the first girls high school coach to speak at any USA Basketball Coaching Academy.
In 2015, Robinson spoke at the Emory & Henry Coaching Clinic in VA.
In 2016, Robinson spoke at the Catholic Middle School Coaching Symposium at Immaculate Heart of Mary in High Point, NC.
Publisher:
In June of 2008, Robinson authored "My Foundation of Coaching", a book that covers his experiences as a basketball coach, the roles that coaches play in the lives of young people, his beliefs and values as a person, and how everything happens for a reason.
Click on the Greensboro News & Record  Link to watch his interview following the 2007-2008 Season.
Robinson also published an article in "A System of Success: 2009 State Championship Basketball Playbook", a national high school publication. He also has entries in the 2010, 2011, 2012, and 2013 State Championship Basketball Playbooks published by Dan Ninham. In 2014, Robinson's club program was selected to be one of twelve organizations nationwide to be a USA Basketball Youth Pilot Program.  In August of 2015, Coach R became the first high school girls basketball coach to speak at the first-ever USA Basketball Youth Coaching Academy which was held in Las Vegas, Nevada.
Published "A Decade of Dominance" in 2012 chronicling the Lady Villains first ten years under Coach Robinson.
Coach Robinson's published a manual and DVD set on "Building & Sustaining A Successful Basketball Program" in 2017.
Coach Robinson's Coaching Tree:
Bradley Shore – Head Girls Basketball Coach at Forbush HS; was Coach Robinson's varsity boys assistant at Starmount HS.
Craig Clark – Former Head Boys Basketball Coach at Winston-Salem Christian; was Coach Robinson's varsity girls assistant at Bishop McGuinness.
Megan Buckland – Former Assistant Women's Basketball Coach at Presbyterian College; played for Coach Robinson at Bishop McGuinness.
Brittany Cox – Head Girls Basketball Coach at West Forsyth HS; played for Coach Robinson at Bishop McGuinness.
Rebecca Role – Former Head Girls Basketball Coach at Parkland HS; part of Coach Robinson's club program.
Katheryn Lyons – Former Head Girls Basketball Coach at Westchester Academy; played for Coach Robinson at Bishop McGuinness.
Calvin Davis – Former Head Girls Basketball Coach at Winston-Salem Prep Academy; part of Coach Robinson's club program.
Andrew Porter – Head Girls Basketball Coach at A.L. Brown HS; played for Coach Robinson at Starmount HS.
T.J. Eggers – Head Girls Basketball Coach at R.J. Reynolds HS; was Coach Robinson's varsity girls assistant at Bishop McGuinness.
Amanda (Cross) Brown – Former Assistant Girls Basketball Coach at North Raleigh Christian; played for Coach Robinson at Bishop McGuinness.
Gina Simmons – Former Assistant Girls Basketball Coach at West Forsyth; played for Coach Robinson at Bishop McGuinness.
What The Program
Does Not

Promote Or Promise: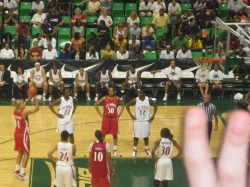 292 Basketball does not and won't ever promise any of its' participants a scholarship to a college or a selection to any post-season all-star game.  We will do our best to help each participant reach their goal of playing basketball in college, but there are no promises. The scholarship given out to participants is determined by the college coach, not our program. We just try to prepare and then place each girl in the best light possible so they can perform at their highest level when the appropriate time comes. I hear all of the time from some coaches and directors in other programs "Hey, come play for me because I can promise you that I will get your daughter a scholarship." I have yet to see how anyone at this level can make that type of promise, and worse off, when the time comes and that kid and parent who was promised the scholarship doesn't receive one, there is no accountability on the coach or director who made that promise. That's not right. That's why 292 Basketball is not, and never will be labeled, a "recruiting service", because it is not – no ranking players, no making promises…just advice and helping players and parents find avenues. I also see kids jumping from program to program in search of the possibility of promises to play DI Basketball or being selected to play in post-season events such as Nike Skills, USA Basketball, the McDonald's All-American Game, and the WBCA All-American Game.  I am on one of those four selection committees, and the chair of another one of those committees, but I can promise you this, that being in the 292 Program does not better your chances of eventually making one of those two events. Making promises to kids and their parents about the possibility of bettering their chances of being selected to one of those events by participating in this program compromises the integrity of not only those organizations, but of me as well, so that will never happen. That being said, we also do not place kids into the "hype machine", where we try to make kids bigger and better than they are through promoting them in various media outlets. Our experience with the "hype machine" is that kid's start to feel entitled and that they have arrived already, which leads to them not working as hard on their game and spending more time searching for the spotlight and attention.  "Already Arriving" is a dangerous thing in the growth of a player. We don't mind putting your name out there, because that is necessary so the right folks will at least take a look at you, but going overboard with it is not in our program's standards. Kids have left our program in search of making these events and spotlights and have found out how political some of the programs and the process can be. I, personally, have lost close friends who believed that I should do whatever it takes to get their kid into one of these events or "hype" their kid up. What I have told them is this is not the role of 292 nor me to focus all of my energy on just one participant in our program for an event or spotlight like this. I believe that their kid needs to take some responsibility and perform at their highest level all the time and let what happens happen; if I start making false promises to the kids, to the parents or to the college coaches, it leads to blame and broken friendships.   Please make sure that you are not joining this program in search of making an event (USA Basketball, McDonalds, WBCA), to be "marketed", to be "ranked" in such-and-such media poll or looking for any other media attention such as this. Please also don't change this program thinking that Coach R will automatically make my kid a DI player and if he doesn't, the program failed me and my kid. We are here to help you find a school and basketball program that fits your daughter so she can be happy for her four or five years of college.  The kid needs to put in the work, then perform when the "lights are on" and we will, next, help point them in the right direction. We'll let the college coaches know where they are playing, then its' up to the player. The harder the kid will work, the more they will appreciate every opportunity they receive, and the more humble they will be when they get that opportunity. Basically, the "Me-Culture" of club basketball is not promoted in our program. We want our players to be coachable kids who understand that, yes, they need make sure they are improving individually and making their team the best they can be, but also understand the team concept. I don't want college coaches coming back to me after signing one of ours kids and saying "She can't be coached, she is all about herself and not the team, and is selfish, or "It's obvious no one has ever corrected her or told her 'no'.  We make sure that the "Me-Culture" that pervades the club basketball season is not promoted in our program.  You're not going to play basketball forever, and be able to have strong relationships long after the ball is put in the closet is important. When one of these "great, self-promoting" club coaches calls our players, promising them the world to come to their program and to leave ours, the parent has to at least ask "What are your credentials, not as a player, but as a director or coach"?  If the answer is not satisfactory, then you know that requesting team or program is one that probably promotes the "Me-Culture". The 292 Program has been successful (96% of 292 Participants to college basketball programs); check the "Alumni & History" page on this web site. 
Stressing The "True" Importance Of Being A College-Level Recruit..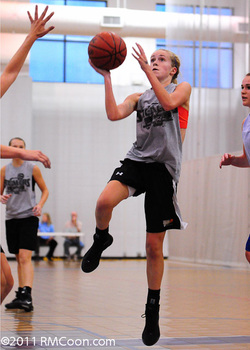 Our 292 Travel Team stress the importance of not trying to let your uniform or your "look" stand-out; rather, let your play stand-out. You have to practice and practice to get the opportunity to play at the highest level you are capable of, and that includes those with lots of God-Given talent. Once you start getting "noticed", college recruiters want to see if you are about substance or style.  Take for instance this statement by Chris Dailey, assistant women's coach at the University of Connecticut: "We are preparing our players for a competitive world," Dailey says. "Kids think being different is wearing one sock up, one sock down and purple hair. We try to tell them you draw attention to yourself by working hard and working well with people. Dress for the job you want. Look people in the eye. Be able to have a conversation. Geno and I totally agree, although I don't think he cares about the stockings and nail polish." Ah, yes, the nail polish. Dailey knows manicures. It's her belief that when you are on the court, look like a player, play like one. When you are off the court, look like a young woman and act like a young lady. She is unrepentant on this point. So no jeans at team functions. "When we go to dinner together, no way," Dailey says. "We're trying to teach them appropriateness. For Denver, they can pack jeans for their free time." When pressed to give the rule she is most proud of, her answer has nothing to do with what's verboten. "The women's athletic director at North Carolina, when we went down there, said, 'Chris, I've been doing this for 20 something years and greeted every team. Yours is the first one where every one of the students acknowledged me.' I was so proud." You want to know what else makes Chris Dailey proud? UConn players always say hello to the bus driver. They learn they are not the center of the universe. So again, the person you are is just as important, if not more, as the player you are.  However, the player you are is what gets noticed first. Work at your game, never be satisfied, and don't your selfishness, your "me-first" attitude, or your wanting to be individualistic on the court keep you from playing at the highest level you really, truly can and should be playing at.
What Are Some Of The Mistakes Folks Make In The College Recruiting Process…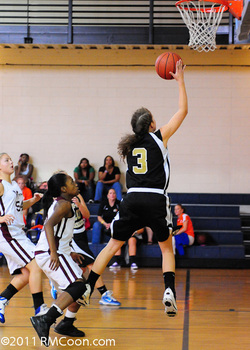 Another aspect that the 292 Program tries to handle is minimizing the amount of mistakes that players and parents make going from season-to-season. The first mistake is not getting all of the information needed to be successful in the 292 Program.  Most of the successful 292 Participants get their questions answered up front; clearly understand what they are getting into, and then ask questions as they move through the process. They don't want to make mistakes and understand this is not a scientific process.  They are advice-seekers and understand that adversity, heartbreak, and frustration is part of the college recruiting process that is balanced out with the true joy, excitement and anticipation of being sought after and, hopefully, signing to play basketball in college.   Jumping into this program without asking questions would be like buying a new car without taking a test drive, sitting down with a employee of the dealership, or learning all of the details of the car (like the commercial says "Show me the CarFax").  Then, when the car doesn't run as you expected, you want to complain, when all of the information was actually there before you signed on the dotted line.  You go away complaining that no one was there to help, when it was actually the exact opposite. The majority of frustration I see as the director of this program comes from the ones who don't read their emails, don't come to meetings, and don't ask questions.  They go in assuming they know it all, and before they know it, they are deep into a hole that they can't get out of.  That leads to everyone else being blamed: the coaches, the teammates, the staff, and, yes, me.  There is no looking in the mirror and asking "What have I done wrong?" It is always another's fault, when yet, the information and the access to information is there…you just have to ask.  The college recruiting world is a daily, ever-changing environment.  What was a recruiting rule yesterday may be different today. How you were recruited when you were coming up, is now different today.
The second mistake is not being patient through the process.  The college coaches decide who they will offer scholarships to when they are ready to do so. That may mean some in your daughter's class or even younger get offered before yours. That's the college coaches decision, not your current coach or the 292 Program's decision.  No two players are the same; they may play similar and have some reflective traits, but there is some small differences that you have to pay really close attention to (or have a trained-eye), to notice.  Comparing your daughter to someone else's daughter is not good. It is hard not to do that, but you don't want to do that. College classes change year-to-year, as do their needs in players.  Yes, yours might have been good for a certain college if she graduated last year, but now, she may not fit their needs. Spending time comparing yours to another, or complaining that "such-and-such" player is not as good as yours wastes time, and in the college recruiting process, wasting time is not good (others are working while you are complaining). If your daughter is working, and you are doing the best that you can to help her, she'll end up more than likely with the right fit; more often than not, it is a fit that you weren't expecting at first.  You see the ship-jumpers that panic at the first sign of adversity, and little did they know that if they just followed the system, things were going to work out just fine.  Being patient comes with an understanding that Coach R is not withholding information. More often than not, parents will ask "Has anyone called about my daughter?" First, if a college contacted me I'd let the parent know immediately. There is absolutely no reason on my part to not tell a parent when a college coach contacts me.  If the parents ask that question and I say "No", then the next question is "Why not, I really don't understand why I signed up for the 292 Program"?  That's not being patient and again, I don't work in the college coach offices daily. Me making decisions on a college coaches future job security is not something I do. What I do is place your daughters in the proper tournaments, make sure the colleges know where and when they are playing in those tournaments and then followup with emails and calls to get an idea on where each player stands.  The social media world puts a spotlight on the 1% of players that are receiving a lot of offers, but that's not the true world.  It is a grind and it takes time.  We have had some of those 1% kids that get multiple offers in the 7th and 8th grades.  Those are exciting, but is not the norm.  How about college visits?  Take as many as you can when you are younger (7th-10th grades), but from the 11th grade and on make sure there is a mutual interest.   Taking visits when there isn't an interest is wasting time.  
The third mistake is not breaking away from the 8-14 "Chasing the Weekend Medals" year old days.  Some have wanted to keep "their team" together that was good when they were twelve.  Players develop at different paces, and breaking them out of their middle school comfort zone is necessary for them to develop.  Yes, the familiarity may be good, and keeping a core of them together may help with chemistry, but eventually they'll need to grow on their own some (it's going to happen if they are fortunate enough to get to play basketball in college), so it might as well happen when they are heading into their teenage years.  Folks say "Well, she doesn't want to leave her friends"… If they are her friends, they'll be her friends whether or not they are on the same team.  The ones who are able to make that next transition early enough, when they are ready and can stand on their own two feet are the ones who typically excel in this program and come out happy in the end. The fourth mistake is trying to avoid adversity. Adversity could be getting beat often in tournaments, or adversity could be your daughter sitting on the bench longer than she is used to. Maybe adversity is not starting on your team.  Showing that your daughter is willing to work and overcome this adversity gives her a valuable tool that she'll need in college when you aren't there everyday to fight her battles for her.  The colleges look for this trait and do take notice when kids have a hard time at a young age handling adversity. Sometimes they'll attribute that to immaturity, but if it is an on-going thing with a kid, they'll quietly stop recruiting a player.  Everyone wants to start, but not everyone can.  Everyone thinks theirs should be playing over another. The bottom line is working.  Sometimes you can work and work and things, from a playing more or starting spot, may not change.  What has changed is that she is getting better. College recruiters want to see her get better and don't say "Oh wow, she starts, we need to give her a scholarship!"  They want folks who can play with other good players, who understand that doing what's necessary for the good of the team is important, and who (and their parents) won't rock the boat or try to run from adversity instead of facing-up to it. I see another area of mistakes when it comes to skill sessions to improve in their weak areas. I see folks who will choose to work with someone who will either tell them what they want to hear or stay closer to home to work on their game. The latter is totally fine, as long as that person who is doing the training is making an effort to watch you play in a travel team setting.  The feedback that 292 participants receive following showcase events allows for areas of weaknesses to be identified.  If a player works with someone who just reads the feedback, but hasn't seen the weakness in a travel team setting, the skill work being applied is almost counter-productive. I can't tell you how many parents tell me "My daughter is working with someone on the outside or closet to home on her skill set directly from the feedback on the 292 evaluation, but we're not seeing positive results".  A lot of that frustration is, again, the skills trainer needs to see them play in the setting where the feedback originated from to get an idea of what they really need to be helping the player on.    It's kind of like saying "She took 500 shots today so she is working", however, if she is taking 500 shots wrong, then you are being counter-productive and have just lost an hour or two.  Also, working with someone who just tells them what they want to hear as opposed to actually trying to get them better is not a good thing.  Specific correction in skill sessions is necessary so it can be applied properly to fill the gap or area of weakness.   Examples of past 292 participants that needed specific help: The 292 evaluation of Megan Buckland in 2007-09 needed improvement with her jump shot form and consistency. 292 evaluation of Katelyn Doub in 2010-12 and Bailey Kargo in 2012-14 (before and after tearing her ACL) consisted of needing a better first step and explosiveness to her game. 292 Evaluations of Breanna Foster and Kaila Craven in 2011-2013 included improving their mid-range games and ball-handling.  All had little or no college offers through their sophomore and (part of their) junior years, but all ended up with DI offers once the scouts saw consistent improvement in the areas they needed specific help in.  All of these players did the majority if not all of their skill work within the 292 program at a minimum of twice a month and when not participating in a 292 skill session, they took what they were taught and worked on their own until their next scheduled session. The last mistake is having too high of an expectation.  Everyone is not going to Division I. That's a fact. Some may and we have been fortunate enough to have a good number of Division I Players come out of our program, but we have also had some great players go onto play at the DII or DIII Level.  Everyone wants to play Division I, and that is a hope that we try to help you with, but the ultimate goal should be to have your daughter enjoy the program, work hard, and get as good as she can and then let things fall where they may. Remember, the 292 Program has worked for so many in so many ways… ask questions, be patient, be accountable for you and your daughter, and understand that adversity is a necessary part of growth. In the end, through some tears, and through some joy, she'll come out smiling… if you stick with it.
Grade-Based Skills: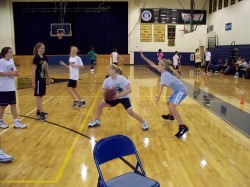 The grade-based skills program was one 292's more popular programs. The program began in August of 2008, and its' goal is to help groups of 8-12 players prepare for future 292 travel team events. Participants range from grades 4-8. Each participant pays a separate monthly fee to participate in five, two-hour sessions per month. The grade-based skills program returned in August of 2015 with Monday Night Skills.
Information On Travel Teams: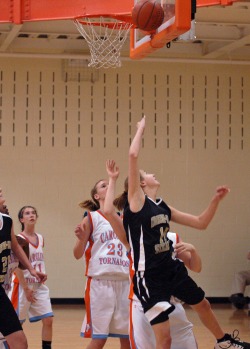 Probably our most popular program in the 292 Program is the opportunity to participate on our travel team. We have two options in regards to travel teams: our national and our local teams. Both teams hold tryouts in March following the end of the high school season. We do allow for more than one national travel team if we have the numbers and talent to field more than one competitive team. The same thing goes for our local travel teams. The national travel team does most of its' traveling in July. This team has played as far as Illinois, Nebraska and Oregon, but also plays regionally (Georgia, Virginia, DC).  One of the goals of the travel team, besides playing in front of college coaches, is to teach players how to compete for playing time within their team. College teams are made up of the best players from their different high schools, and our travel teams are the same.  Players have to learn how to compete for playing time, thus giving each player an opportunity to prepare themselves for college basketball.  While we want players to receive as much exposure as possible, we also want to try and win games (but not at all costs). By doing our best to win, we can allow our players to play and compete against better teams in travel team events.  Just "giving" players playing time teaches the wrong thing as at the next level (post-high school) it won't be that way.  It is a fine line trying to make sure we get our kids the exposure they need, but again there is nothing wrong for competing for your playing time and continuing to earn it each day instead of it being handed to you. *Parents: one reminder about our travel teams is that we try to place players on a team where they can be their best, regardless of age.  If your daughter is fortunate enough to play "up" on a Sophomore-Senior Year Team when she is in the Seventh-Eighth Grade, remember that the older girls (and parents) are accommodating their time to help your younger daughter (and you) along. I hope that when your daughter moves into high school and has that same opportunity to help out the future of our travel teams, she'll (and you'll) remember how to act and treat the younger players and extend that same courtesy. It cannot be "alright", at least not in our program, to play up when your daughter is young, but when she is older for her not to play with younger kids who are trying to learn, just as your child did just a few years earlier.*
Year-Round Teams: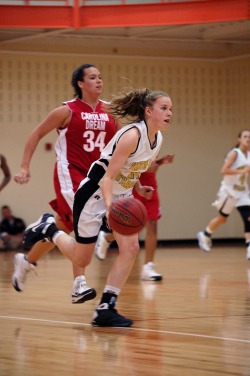 Our year-round team program began in October of 2008. The goal for this program is to prepare participants for competitive travel team basketball at a young age. In October of 2008, 292 began a team for the participants in the Class of 2014. That team cannot participate in team activities during school ball season, but can work on their individual skills to keep themselves sharp and to keep improving. The team picks up their season once the school seasons are over and then stays together for the entire year until school ball comes around again. Year-round teams ran from 2008-2013.  We now hold basketball academy teams (CRC) in place of the Year-round team(s). Basketball academy information can be found on this web site.
Other Past 292 Programs: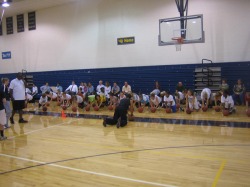 The 292 Program has helped sponsor: Monday Evening Basketball in 2004 (College-Exposure Event), DII / DIII College Coaches Tournament, Ganon Baker Skills Clinics (2003-2009), Triad Coaching Clinic (2004-2009) and the 292 College Showcase in 2003. Also, the program has sponsored a ZUMBA Class for our players (2010) and an ACL-Knee Injury Educational Class (2010).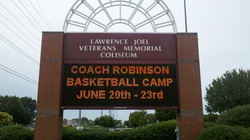 292 offers a variety of services for our participants: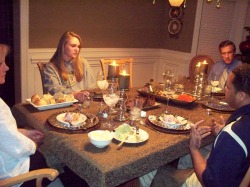 – Consultation on academic work. – SAT Prep Class. – Advice on home visits by college coaches. – Advice on handling official and unofficial visits to colleges. – Arranging unofficial visits to colleges. – Basketball camps that 292 hosts. – Advice on attending college camps. – Nutrition clinics. – Coaching clinics. – DII / DIII  College Coaches Travel Team Showcases. – Exercise clinics which include strength and conditioning properly. – Individual Skills. – Referee / Officials Clinics. – Talk to the media night. – Clarification of NCAA Rules. – Ganon Baker Camp.292 Registration runs every August-October for those interested in the program. Email Coach Robinson at
stlrzcoach1@aol.com
to set-up an appointment to meet during this time period.

Above (L-R):  Nutrition Class at Orthopaedic Specialists, SAT-Prep Saturday Class, Triad Coaching Clinic.
Below (L-R): Conditioning With Athletic Republic, Talk To The Media Class with Kristin Nelson (WGHP), Game Officials Class and ESPN's Cara Capuano Talk with 292 Participants.


Below Post Camp Held July 16-17, 2010 With Bryan College Head Coach Christian Papp.

Below Guard Camp Photos From July 30-31, 2010.

Below are pictures from Ganon Baker Camp, October 15-16, 2012.
292 Meetings For 2016-17 Season.
292 Registration Meetings for the 2016 Season began in August (2016) and run through October (2016).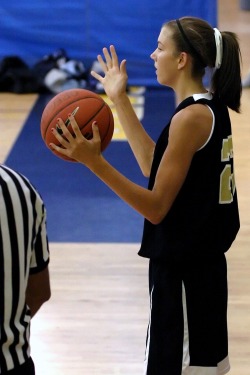 Parents, that have daughters rising 7/8th-12th grades, interested in learning more about the program could email Tammy
HERE
to arrange a meeting beginning July 18, 2016.
Please email Tammy as well for general questions about the 292 Program.Meetings are free of charge.  The deadline to register for the 2017 292 season is October 31st (last day to register).
The fees are broken down so you can pay in full, or two half payments, four quarterly payments or twelve monthly payments.  If you paid during the discounted period, the fee will remain the same throughout the 292 year; the discounted fee period has ended.
Registration forms can be accessed by emailing Tammy. Bring your registration form with you to your meeting. 292 Meetings Dates for the fall of 2016 are now closed.
Just Something To Think About…
Athletes Women's Basketball  – Just something to think about…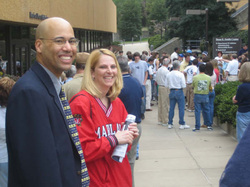 High School Athletes 452,929 High School senior athletes 129,408 NCAA Athletes 15,096 NCAA Freshman Positions 4,313 NCAA Senior Athletes 3,355 NCAA Senior Athletes Drafted 32 Percentage: High School To NCAA 3.3% Percentage: NCAA To Professional 1.0% Percentage: High School To Professional 0.02%
---
292 Basketball supports a number of charitable organizations such as the humane society, the Shalom Project, Sea Turtle Conservation, the American Red Cross, and Impact Triad.