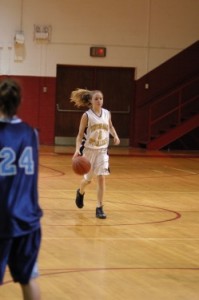 As of May 2006, Mark Allen has three daughters in our program. Emily currently participates on our Developmental Team, while Haley and Kaite play on our 12 and 13-and-under Teams. This post was about a door that may have opened for Katie, because of Mark putting in some volunteer time at one of our events.
"I wanted to share a story about being in the right place at the right time. "I always preach to my kids about doing your best all the time because you never know who is watching. "Sheila Lyons called me to help volunteer at the concession stand for the 292 Division II and III College Coaches Showcase in April 2006. "I had a lot to do that weekend, but could not tell her 'no'.  "I took my daughter Katie with me, even though she hesistated and wanted to stay home. "One of the Stealers / 292 Teams at the site we were working at was missing two players, and then one got hurt, so Chuck Seeger was in need of a player just to have enough to play. "He asked if Katie could fill in, even though this was an event for 11th and 12th graders for the most part.  "Katie stepped in and played three games on Saturday and one on Sunday with the team.  "After her last game on Saturday, Coach Robinson was approached by the assistant coach from Randolph-Macon College in Virginia, Ann Litton.  Coach Litton told him that she was really, really impressed with #12, a senior on Coach Seeger's Team.  Coach Litton began describing how #12 was so similar in her presence on the floor to their MVP at Randolph Macon.  (Randolph Macon was a Top 8 DIII Program in the Nation in 2006.)    When Coach Litton asked Coach Robinson what he thought about #12, he said, 'Hold on, she wasn't here today, we had someone else fill in and wear #12, because she did not show up. '#12 was Katie Allen, an 8th grader.'  Coach Litton was extremely surprised because she was there to recruit 2006 and 2007 graduates, and Katie, a 2010 graduate, caught her eye and attention. Coach Litton said that she would keep Katie on her radar and follow her development as she moved through her next few years.
If I had decided not to help, and also left Katie at home, this future opportunity may have not happened for my daughter. It may or may not lead to anything, that is to be determined, but it just shows that being in the right place at the right time, doing a little extra sometimes, and helping others can help yourself and your daughter out sometimes.
Mark Allen – "Straight From The Parent's Mouth" – May 9, 2006.