Heather Craven – Enjoy Every Moment – 4/3/17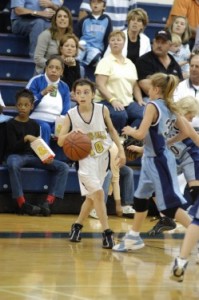 Heather Craven has had two kids play for the Winston-Salem Stealers. Kaila Craven pictured above as a nine year old, played all the way through her senior year of 2015. Kaila signed to play basketball at Appalachian State University.  Heather's oldest daughter, Samantha, played four seasons with the Stealers, and now is in charge of our Randolph County Satellite program. Heather sent this to me on April 3, 2017 after a tournament at the Gateway YWCA.
April 3, 2017
Chad and I went to the tournament and got there in time to watch the little girls that Abby Bullins coaches. And this is the best advice I can give to your Stealer parents.
Slow down and just enjoy every moment–every play–every game. The time flies by. I sat there with tears in my eyes and everything you have ever said–the parent letters you sent out–the knowing looks you gave–came flooding back into my head. I finally get it.
I watched them and I realized–wow. It really does take 10,000 hours of practice. It really is just one game. It really doesn't matter if you win or lose.
I heard a dad coaching his daughter right after a game—I wanted to say "Dad, she did good—she is going to continue to learn. It will be alright! You have your daughter in the best organization in the world. She is a Stealer. She is part of something bigger than just basketball."
I watched the children seating the bench; waiting for their coaches to put them in the game. I wanted to say, "you have no idea how much you are learning from the bench and how this will help you in your future. You will sit the bench during your basketball career; either from not being the best or from being injured—learn how to be the best bench player there is."
I saw different coaches yelling from the sidelines and I thought back to when Coach Grant made the babies cry in Mt Airy! Those girls laugh about it now.
Parents the most important thing is making sure your child is happy and she had fun. Participate in skills and trust your coaches and trust the program and most of all trust Coach Robinson. He cares about each of you and he will help all of your children succeed.
Looking at his coaching staff, now full of former Stealers. The Stealer program develops not only basketball players—it develops coaches and referees and it produces fine, young women that we can all be proud of.
So just sit back and enjoy every moment. One day, you will be in my shoes. One child graduated and retired from playing basketball at a D2 college and one child playing and dealing with injury at a D1 college.
The hours we spent investing in our children were absolutely the best moments of our lives and I would not change a thing except for chilling out occasionally and not calling Coach R in a panic.
The system works and all of these girls will find their paths and along the way; they will find the best friends they could every have. Stealers for life!
Thank you Coach R and Coach Grant and all the other former, present and future coaches that are investing in these girls. You make a difference. You truly do.
Parents good luck on your basketball journey—you will make memories that will forever be cherished.
Heather Craven
Stealer Parent for life. ❤️