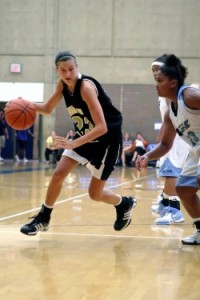 Megan Buckland made a verbal committment to the University of North Carolina-Chapel Hill in the spring of 2010. Megan had a dream of playing for UNC when she was little and that dream came true with hard work and dedication especially through some trying times and tough decisions. Megan's parents, Tammy and Steve, talk about Megan's journey as a seven year old playing on a 10-and-under team to the girl who is now fulfilling a dream.
When Steve and I are asked about Megan's road to becoming a Tar Heel, we could say it was all about a dream. That makes it all seem so simplistic. When actually the road was winding, including several potholes along the way. The road tested patience, perseverance, and humbleness, among other things. Yet, as she migrated through the maze with the insight of one Mr. Robinson, she found success on many levels.
Steve and I were first introduced to AAU when a parent in the Oak Ridge Youth Association invited Megan to an AAU tryout for a 10 & under team in the Triad Area. Megan was 7. We thought this would be a good opportunity for Megan to see a bigger picture and see what improvements she would need to make in order to make such a team. To our surprise, she made the team, along with many 8 year olds. That first year was a struggle as Megan rarely played and the margin of our losses were in the very high double digits. However, we liked the coaches and knew Megan was learning the fundamentals of the game. A couple of years later, those same fundamentals carried this team to three straight AAU Division I State Championships and a finish as high as 7th in the AAU Division I Nationals. Megan was now starting and was getting her share of playing time. Happy? Yes! However, she primarily played the 4 position and we knew her body style wasn't going to be a 4 if she continued playing because she just didn't have the physical build for it. So the search began to get her where she could develop the skills she would need later.
We had grown up, however, with the Stealers. Megan's team always played against the Stealers, whether it was in a local tournament or the state playoffs. She had friends on the Stealers team and Brian's teams were always fundamentally sound. We spoke to Brian about moving Megan and how he felt about her playing up so she would be pushed to play more in the guard spots. Together we decided to move her to the Stealers and allow her to join the 15 and under team (she was 12). Hard decision? Absolutely! Megan had played with her former team for 5 years. Those girls were her life. However, we made the change because it was the best thing for Megan's future if she was going to continue to play. It was very difficult on Megan. She didn't win a popularity contest when we made the change. She also had to prove herself again to a group of young ladies that had been together since they were 9 and 10. No easy task but with hard work and a team mentality, the members of the team began to embrace her and she flourished in the program.
By moving her up another age group, Megan was no longer the tallest on the floor and she began to play more of the 2-3 positions. This allowed her to work on areas of her game that had been neglected in the past. Yes, more mistakes and turnovers but she pressed on, practiced, kept on working, and got better.
Shortly after being in the program, Brian invited Megan to participate in the beginning of the Travel Team experience. Steve and I thought it was an honor for Megan and that part of the story begins. Megan was playing with the likes of Katheryn Lyons, Brittany Strachan , LaShaunda Pratt, Kelly Smith, all of whom went to play in the ACC or other major conferences. Playing time was a minute here and a minute there but the experience was just what Megan needed. She was able to see first hand what it was going to take to be able to not only play in college, but have an opportunity to play at the highest level.
As we progressed in the Stealers program, Megan had many opportunities and was evaluated at many levels. During this time, it was suggested that Megan make a change to her shot. There were discussions that her shot was just fine the way it was, why change? Yet, we became a part of this organization for the expertise in all of the various areas of the game. We decided to move forward with changing her shot. Again, not an easy decision but one that as we look back, was a good decision. It was even more difficult because she was going to be changing her shot while attending multiple showcase events, which would expose some inconsistencies in front of college coaches as she progressed through this change. She was transitioning through this change between her 8th and 9th grade years. It was very frustrating for Megan at times because her consistency took a plunge. However, the college coaches could see that she was working on a part of her game to make it better.
It all started to come together following Megan's sophomore season in high school. Her travel team was in transition with roster changes, and those changes again led to some uncertainty, but that uncertainty led to an opportunity. Megan helped her team to an undefeated, championship run at the Boo Williams Spring Tournament in Virginia. The college coaches not only saw her improvement, but saw some other intangibles such as leadership and (mental) toughness. It was there that her college recruitment went to the next level; college coaches saw that Megan was starting to come into her own. Her strong spring helped her receive an invite to U16 U.S.A. Basketball Trials in Colorado Springs, Colorado.
Megan wasn't one of the original thirty-four players selected for the trials, but when three players were injured following their spring tournaments, she received an invite. It was an experience unlike any other for her (you can read Megan's blog on the U.S.A. Basketball Page on this web site) and such an honor. Even though she did not make the team, it built upon her growing confidence and she closed out the summer with some strong performances. The college recruitment kept growing. Megan was going to have a number of great schools to choose from, and now we had to sift through these choices.
To have every college love you is a dream. But as you begin to sift through that information and visit campuses, you can quickly identify which program your daughter can be successful being a part of. You see coaching staffs that don't appear to be on the same page. At first, we experienced some inconsistency; we laughed as there were several times Steve and I were told by different coaching staffs that Megan would be offered a scholarship when we visited. Yet, after a wonderful day of touring campus, football games, meeting and greeting teams and coaches, we left campus empty handed. Only for Megan to get a call the next day saying they all thought the other had offered. Again, this was not just one time! But that was all okay, because those were signs to us that the staffs were not on the same page, and we didn't want Megan to be a part of that type of program. It hurt, but it was something that we had to go through to know that this was not where we wanted her to go.
But I must say, there are visits to campuses that we will never forget. The staff at Florida State presented the most amazing visit, a visit that was very unique and original to Megan. They had done their homework getting ready for Megan and made her feel so very special. There are also coaches that she developed relationships with during this process that she will never forget (Coach Kelly (Harper) at NCSU, Coach Lance (White) at FSU and Coach Bart (Brooks) at DePaul). These 3 coaches really stood out from their competition in terms of their recruiting abilities.
Everyone thinks college recruiting is all glamorous. There is a certain glamor but as with everything it comes with a lot of work. The physical mail can be overwhelming at times all on it's own, but then add the emails to respond to as well as the Facebook messages to answer, and it is a lot for a teenage girl to keep up with. Then comes the request to call. Some kids apparently choose not to answer any of the correspondence. Megan was diligent in responding to all emails, Facebook messages and requests for phone calls, as she considered it an honor to be recruited by all of these schools and wanted to be respectful to everyone who had shown interest in her. As things got increasingly hectic for Megan, we met with Brian in January and devised a plan to narrow her list of colleges to a manageable number and to narrow that list a second time in April of 2010 to 3-5 schools.
Then came the 2010 High School State Championship game. Megan's team had beaten the odds and were in the game again. There were 20 or so colleges that were at the game and we were holding a pretty steady lead. Fast forward to about 9 minutes left in the game and Megan drives to the basket and ends up on the floor. Those of you who know Megan know that she may hit the floor but she is quick to get up and never shows emotion. To watch her sit there with tears falling, we knew it was more than a tweak; she didn't return to the game, but she provided support for her teammates from the bench for the remainder of the game and they were able to win another state championship. What an accomplishment; to an emotional, and rewarding season!
We got the news a few days later that she had a torn ACL! What happens now? Brian said to be patient and it would all play out. Not one school backed away. Megan had done the work already. They knew her work ethic, they knew her abilities and they knew she would be back. The original schools did not back away and surprisingly more offers came in. There would be no travel team for Megan during her last year of club basketball, there wouldn't be an invite to U.S.A Basketball again, there wouldn't be anything but Megan having to rehab. However, in the end, this could be a blessing in disguise (again) as it will allow her to build up more physical strength and keep the fire burning to get back onto the court.
Megan again met with Brian when she knew she was ready to select the school of her choice. Brian witnessed a side of Megan few see in the basketball world. She was so excited she could not contain her poker face. She was going to be a Tar Heel! Even Steve and I did not know she had made her decision.
Again, Megan called N.C. State and Florida State to personally tell them she was not accepting their offer. Tears flowed as she told the head coaches no. Then the call where the tears became ones of joy. She called Coach Hatchell and let her know she wanted to come to Carolina and be a Tar Heel. At the time, I don't know who was more excited, Megan, Coach Hatchell or Steve, Michael (brother) and me as we listened.
Through all of this we, as parents, had to realize we are not the experts in this road we traveled. We have had to be open-minded, humble, steadfast, patient and flexible. Megan had to have all these characteristics and more as well. She is not a player that is showy or flashy but coaches realized as they watched her over time that she is fundamentally sound, a hard worker, has a good basketball IQ and is a good student. We also as parents had to be very realistic about Megan's abilities and potential as she continued down the road. We were always honest with Megan about the things she did well in addition to the things she needed to improve on. Megan wasn't born a star, but was able to attain a dream through hard work and perseverance.
Parents often ask how this challenged Megan socially. There were times when she was younger that she might have missed a birthday party or sleepover. However, this round ball she loves has introduced her to some wonderful young ladies from near and far that have become dear friends of hers. She has developed friendships that have far outlasted some of her grade school friendships. I believe it's a fair statement to say she has no regrets.

Our advice to you is to do what is best for your child but remember the character traits mentioned above and if you abide by those, you will have allowed your daughter to grow in a sport that can give her confidence, maturity and self-esteem.