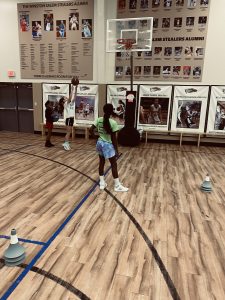 2023 Summer Girls Basketball Camps: June 26-29 and July 31 – August 3.
Camp runs from 9:00-11:00 Each Day.
The 2023 rising 1th-8th grade girls basketball camp dates and times are set.
Session 2 is scheduled for July 31-August 3.
Stealers For Life Members can attend for free.
Session 2 (60 participant limit) = CAMP IS FULL.
Annika Borger
McKenna Breeden
Avery Britt
Ella Cancro
Tahali Cardona
Gabbie Cirone
Lakin Comer
Sylar Comer
Calire Couts
Josie Cranford
Mikenzie Davis
Genevieve DeLille
Amelia Dorville
Cecilia Drabik
Juliet Duarte
Elizabeth Foppe
Hannah Girguis
Laney Hall
Skylar Hall
Collins Helton
Heidi Hufff
Naomi Jo Huff
Avery Hutchens
Delaney Ijames
Gabrielle Jenkins
Layla Jordan
Ellie Kesler
Nora Kotelnicki
Ann-Marie Kurtzman
Kinsley Lawlor
Katlyn Leonard
Lyanna Lynch
Emme Maine
Reese Maine
Brylea McKinney
Caroline Moore
Alexis Olive
McKenzie Olive
Reagan Olivie
Smith Parnell
Jessica Pearce
Reagan Pearce
Dana Pirkl
Mila Pitrelli
Kate Poirier
Macie Poirier
Hannah Ramsey
Khloe Reich
Charli Robinson
Selah Rosario
Elle Samayoa
Carly Shamblen
Helena Speaks
Annabelle Stoltz
Claire Strawn
Ava Swiderski
Jaina Turner
Elizabeth Whicker
Reese Wilkes
Olivia Williams
Akiela Young
2023 Summer Basketball Camp Registrations.