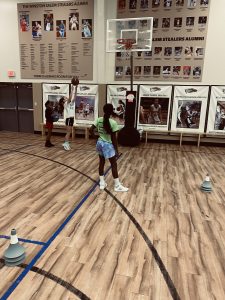 2023 Summer Girls Basketball Camps: June 26-29 and July 31 – August 3.
Camp runs from 9:00-11:00 Each Day.
The 2023 rising 1th-8th grade girls basketball camp dates and times are set.
Session I will be held June 26-29 and Session 2 is scheduled for July 31-August 3.
The regular cost per camp is $50.00.
If you pre-register for both camps, the cost is $90.00.
Please note which camp your daughter will attend if she's only attending one.
Stealers For Life Members can attend for free.
Registrations:
Colbie Cloud (1st Session)
Lakin Comer
Sylar Comer
Laney Hall
Skylar Hall
Collins Helton
Heidi Hufff
Naomi Jo Huff
Avery Hutchens
Evelyn Hutchens (Session 2 only)
Delaney Ijames
Katlyn Leonard (Session 2 only)
Emme Maine
Reese Maine
Caroline Moore
Emma Needham (1 Session)
Alexis Olive
McKenzie Olive
Reagan Olivie
Smith Parnell
Kate Poirier
Macie Poirier
Khloe Reich
Carly Shamblen
Kuta Shipton (Session 2 only)
Ruth Shipton (Session 2 only)
Helena Speaks (Session 1 only)
Lydia Stanfield
Claire Strawn (Session 2 only)
Ellis Williams (1 Session Only)
Olivia Williams
2023 Summer Basketball Camp Registrations.