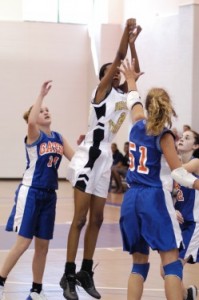 Brittany Strachan made a verbal commitment to play basketball at North Carolina State University in 2006, a dream that she created with hard work, and a lot of sacrifice.  Brittany's Mom, Sharon, wanted to share with you Brittany's story, but got really emotional when writing about where Brittany started to where she is now.  With some help, her story has been written.  Brittany's story is all about being patient, as a parent, and letting your daughter grow into her own:
"My husband Tim, and I brought Brittany to the Stealers when she was seven years old. The year was 1998, and Brittany could barely shoot the ball to the net. This was the first 10-and-under Team the Stealers would have, and Coach Robinson kept Brittany on the roster because she listened well, and tried really hard, and eventually, she would get strong enough to play basketball at this level.
Our 10s team that year won two games. Our first tournament was held in Boone, and it snowed.  We lost our first game something like 45-4, and our second game like 39-7.  At first, I was concerned about what was going on, because we couldn't even get the ball past halfcourt, but the girls were having fun, and when we did score, it was a huge celebration for everyone.  Brittany was having the time of her life, so I settled down and just cheered her and her team on.  Late in our first game, the ball came right to Brit' under the goal and she turned around and threw it back to the goal and it went in. I jumped onto the court, wanting to give her a hug, but I was quickly held back.  You would have thought that Brittany had just hit the game winning basket, not the one that cut the lead to forty late in the game, but, again, at the time, it was just a good time, albeit a learning experience, for us all.
1999 brought some new players to the team, and Brittany was much more confident and ready for the new AAU Year.  Brittany was still a year younger than her teammates, but got to start and her team began to win, and win consistently.  Brittany was the tallest on the team and played center, even though she probably was a wing-type player.  I told Brittany that you don't complain or question where you are playing, just be happy you are on the floor playing.  As I look back on it now, playing out of position at a young age, which she had to do until age sixteen, was great for her.  It allowed her to have the confidence to go against bigger and stronger girls, it allowed her to mix-up in the paint, and when she did have the opportunity to play at her normal position, it just made her that much better of an all-around player. Again, this was something that allowed colleges to see how well she understood each position, showing them her versatility.
I see and hear a lot of parents complaining that thier kids are "playing out of position".  Warning: Don't put that "position-thing" in your child's head at an early age.  If you think she is a shooting guard, but she is playing the post, so what.  She is just being able to grow her game, and again, when the colleges start evaluating her down the road, she will have to show that she can play more than one position, and do more than one thing well. The more positions she is good at, the more attractive she'll be to recruiters.
Back to 1999, we went back to Boone for our first tournament, and again, it snowed. However, this time, we went 3-0 and won the championship.  We wound up finishing in third place at our regional tournament, and qualified for the NIC Tournament (now DII Tournament) in Orlando, Florida.  We lost our first two games, and it looked like we would have a short stay there. We didn't hammer Brittany or her teammates about having to win. They were having fun, and compared to where we were this time in 1998, we were enjoying our time.  The girls then caught fire, winning three in a row, including beating the #1 Seed, and then the team that beat us in pool play.  We finished in third place at the NIC and the girls all received medals.  It looked like we had a team that was going to really make some noise in 2000!
Coach Robinson called my house to talk about what team to put Brittany on in 2000. Tim & I thought she was going to move up to 11s, but Coach Robinson explained the benefits of staying back at 10s.  Brittany was sad at first, because all of her friends were moving up, including some that could've stayed with her because of their age.  We were too, but told Brittany that we thought this would be best for her development in the long run, which Coach Robinson agreed with.  Warning: Parents, let your daughter grow into her own before moving her up.  Ask those who will be non-biased, and don't let emotion be your decision-maker. Friends will be there if they REALLY are your friends, and your daughter will make new friends on her new team too.
So Brittany stayed back, and told me on the way to our first tournament that year, which was held in Troy / Vass, that she was going to lead her team to the Nationals.  I told her that I believed she could do it and that she just needed to do her best.  Brittany was the leader of her new team. She wasn't in the shawdows of her 1999 teammates, and you could see her gaining confidence in herself game to game.  Our team won the Stealers' first ever regional tournament championship, and later qualified for the Nationals (DI), in Orlando. Brittany had not only gained the confidence she needed by being the "go to" player, but also became a vocal leader, because the new players looked to her for direction. The team came up with a nickname for Brittany, calling her "Shaq", and she was truly was this team's "Shaq".  Staying back and letting her play on age, because that was the best thing for HER, was the best move we made for her long term development.
Nationals in 2000 was tough. We were down 40-2 at halftime of our first game. We lost our second game 57-21.  Some of the girls from our 1998 team remembered how we got beat in our first ever tournament, so they didn't take losing like that too bad, and could only ask "Can we go to the pool?", after the first two games, so I knew they were ok. Look at how far they had come in two years, how could they be upset… plus, more importantly, they were 10 years old, not 22 playing in the NCAA Tournament.  We wound up winning two games at the Nationals, and lost four, and yet all-in-all, the entire 2000 season seemed like a huge success.
In 2001, the team above Brittany's split and many of the girls that played "up" an age, came back to the team to play "on" age.  This team became a power quickly.  We blew threw the regional tournament, and then won the program's first ever state championship! We went to the DI Nationals on a mission and finished in the Top 10.  Brittany was having fun, and was slowly getting better and better.
Brittany's 12 year old season began to open my eyes.  We won the regionals and states again, and had a high seed for the Nationals, however, something wasn't right.  It seemed like some folks were being critical of Brittany, saying she wasn't strong enough to play in the post, and that we weren't going to win Nationals without a true post player.  I took it personal, because it was an attack on my daughter, on a team that was "hers" in 2000.  However, I kept quiet, because it was not affecting the way Brittany was playing, and she didn't know it was going on.  Our team didn't make it as far as we had the past season, finishing in 17th overall.  That wasn't bad, again, compared to where we were four years ago, but expectations were now driving this team and Brittany was being the one who the finger was pointed at for us not meeting those expectations.
Was that fair to my daughter? No, of course not. I could've gone to Coach Robinson and say "Brittany is being blamed for not being strong enough in the post, or this isn't even her position", but what would that help?  Big, strong, agile post players aren't just walking around town, and he kept assuring me that Brittany is heading in the right direction, and that "it was coming" with her down the road. I just had to be patient.
In 2003, the team won its' fourth regional tournament and third state championship in a row.  However, Brittany was introduced to another side of basketball that she and I had not seen.  Coach Robinson invited Brittany to play on the Stealers' Traveling Team in Oregon.  I was really nervous about this because Brittany was thin, young, and very inexperienced playing in this type of environment.  Coach Robinson explained that this was a good way for Brittany to play on the wing, and learn from some of our older girls.  Since he took only seven players out to Oregon, Brittany had to play.  I remember telling Coach Robinson how sick I felt just before the start of our first game versus the Cal Elite, because I was so worried about Brittany playing against 17 and 18 year olds.
Brittany scored 11 points in her first game, and hit two three pointers, playing the position that she was best at.  Brittany got to hang out with and learn from Chante' Black in Oregon. Chante' took Brittany under her wing, and helped her in so many ways.  Also, helping Brit' out was Meredith Jones, daughter of former North Carolina Tar Heel, and NBA Philadelphia 76ers' Player Bobby Jones. Meredith hung out with Brittany a lot and became her "buddy" so to speak, in Oregon.  I was floored at seeing so many big name college coaches at our games. Of course, they came to see Chante', but it helped the other six girls that played.  Meredith ended up being offered from Northwestern, while two others are now playing DII and DIII ball, and Katheryn Lyons committed to Maryland.  Brittany learned how to play in front of famous faces, and found out that she can play, period, against older girls.
Brittany then jumped on the opportunity during the next week, to play in Atlanta at another showcase event, with Chante' and some different players on another Traveling Team.  Brittany was relaxed, and Tim got to go watch her this time with me. Brittany scored 16 points in the last game, and the letters started to come in for her.  AAU was starting to become an after thought, as Brittany was getting an opportunity that was priceless.
We went to Nationals later in July, and returned to the Sweet 16.  Yet, again, folks were complaining that we should have done better, and would've done better if we had a post player.  I had to make a decision with Brittany.  Not so much because of the criticism, even though that had a hand in it, but more so, because of what she had accomplished in Oregon and Atlanta.
Tim and I decided to move Brittany to the 15s Team in 2004.  Taking her off a team that had won regional and state championships over and over.  Taking her off a team that went deep into DI Nationals. Why would we do that?  Simple: Brittany was now ready.  Winning was great, but Brittany needed the challenge of playing up an age. She had proved herself on the Traveling Team the summer before  playing up and we called Coach Robinson to tell him the news. He explained the pros and cons, and after talking to him, we made the decision.  There was a lot of backlash from our decision, but this is what Brittany needed – growth.  We held our ground, and Brittany had another great season. Brittany's Team finished in 3rd at the state tournament, and qualified for the DI Nationals.  We got to play in front of hundreds of college scouts at 15s, as to what we would've received exposure-wise if we played at 14s.
As we moved onto more Traveling Team Events in 2005 in Chicago, Nebraska, and other places, the college recruiters followed our team's every move.  Brittany played all five positions at one time or another, something she had the opportunity to learn on her early age group teams.  Offers were starting to come in, and we were beginning to understand the value of being patient.
As a parent, you need to be a team player, yes.  It is a fine line between doing what is best for your daughter and being a team player.  The way you need to look at things is that if everyone on the team, players and parents, are truly dedicated on wanting to get better, and are doing things to get better, then you need to stay with that group. However, if your team is just focussed on winning, and not so much getting better ,then you have to look at whether your daughter is wanting to get better or is happy being average, while still winning.  It was tough making the decision at the age of 14, just like it was tough making the decision at 10 for her.  The ironic part of it all was that the ones that criticized her for leaving the team at 14, didn't complain when she was left back at 10.  Ask for advice before making decisions like this, but many times, the answers are in your heart already.
This month, August 2006, Brittany was named MVP of the Junior Olympic Games in Virginia Beach, Virginia, helping Team North Carolina to the J.O. National Championship.  Just a week earlier, she committed to play basketball at North Carolina State. I don't think she would have made it to this point if we had pushed her at 10 to play 11s. I don't think she would have had this big of an opportunity if we didn't let her challenge herself playing up on Traveling Teams in 2003, and then up in 2004.
Brittany has had to overachieve to reach this point, and yet, many feel her best basketball is ahead of her.
My advice to you, as a parent, be patient when your child is young, don't put them in just one position on the floor, and please make sure that your child is getting better.  If we had pulled her at age seven, just because she couldn't get the ball to the net, who knows where she'd be. If we would have pulled her because her team won two games their first year, would that have taught her the right lesson? Playing up an age does not equal getting better, nor does winning regional and state championships. Have them play on their age for at least a year, and then when they are ready, don't hold them back because of "friends", or just because you know you are going to win.
Remember, friends will be friends regardless.
Oh yeah, she IS going to be criticized as she gets better. That's part of the deal, but have her stay focussed on what she wants. It will all work out in the end.