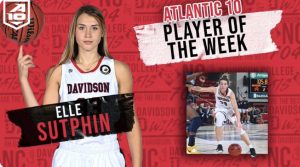 Elle Sutphin Individual and Group Skills
Winston-Salem Stealers Alum, former NC State and current Davidson player Elle Sutphin will hold both group and individual skills in the spring and summer.
Elle's second group skill session will be RESCHEDULED.
Elle will offer individual skills on the following days:
Wednesday, May 24th: 3:00, 4:00 (LK)
Thursday, May 25th: 3:00 (JD), 4:00 (MT)
Friday, May 26th: 3:00 (JD), 4:00, 5:00 (MB)
Cost for the group skills is $30.00 for Non-Stealers For Life and $20 for Stealers For Life.
Group Skills Registration: – POSTPONED ; Rescheduled for another date and time.
Leah Burleyson
Khloe Cox
Juliet Duarte
Maddie Taylor
Cost for the individual skills is $35.00 (both SFL and non-SFL). Please email Coach Robinson before registering for individual skills to check on available times and days.
Use www.paypal.me/crcws to pay or Venmo @Teach-TheGame or CashApp $TTGWSS.