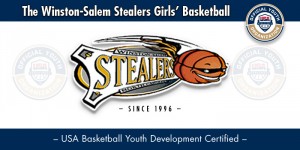 Winston-Salem Stealers Intro Team; 2nd-4th Grades
The Winston-Salem Stealers Intro Team will be for grades 2nd-4th. The team will begin practice on Fridays from 5:00-6:00 pm at The Maddawg Center starting with September 2nd.
The season will run for two months, September and October, and will be coached by Brian Robinson, Stealers program director.
The goals of the team are to teach basic skills and fundamentals in an effort to prepare the girls for the next step which would potentially be winter and spring tournament play in 2022-23.
The cost of the fall season is $75.00 which covers both months or you can pay $40.00 / month.
Registrations:
Skylar Hall
Avery Hutchens
Layla Jordan
Charli Robinson
Registration can be found below:
2022 Fall Intro To AAU Program; 2nd-4th Grades