Fall 2022 Intro Team; 2nd-4th Grades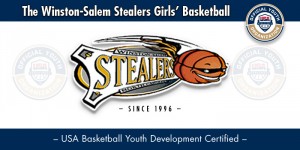 Winston-Salem Stealers Intro Team; 2nd-4th Grade
Our November – January travel team. The cost will be $100.00. The travel team will practice once a week for an hour and fifteen minutes and then play 3-4 tournaments on Saturdays in and around the area. I'll coach the team with an assistant. The first five players to register receive a $10.00 discount, so the cost will be $90.00.
November practice schedule:
11/6 3:00-4:00
11/18 5:30-6:30
11/20 2:00-3:00
11/27 1:00-2:00
12/3 Maddawg Tournament
12/19 6:00-7:00
12/26 5:00-6:00
December practice and tournament schedule to follow.
Registrations:
Elizabeth Elmore
Skylar Hall
Annie Johnson
Layla Jordan
Aisley King
Nora Kotelnicki
Charli Robinson
Kuta Shipton
Elizabeth Whicker
Intro To AAU Options Nov 2022 - Season of 2023
---
Registration for the 2023 spring travel team season. The cost for that season is $150.00. The travel team will practice twice a week, more than likely 4:45-6:00, days are TBA. The team will play 5-6 tournaments at a minimum. There is also a discount of $15.00 for the first five to register. Eventually, each of the above options will have their own page, but I didn't want you searching around for them right now.
Registrations:
,
---
Developing Dribblers (1st-4th Grade) – November / December:
Use www.paypal.me/crcws or Venmo @Teach-TheGame or CashApp $TTGWSS to pay.
Claire Strawn