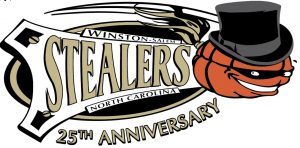 2021 is the 25th Anniversary of The Winston-Salem Stealers. Coach Robinson founded the program in 1996 and coached nearly all of the teams from the beginning until 2004. September 2021 – September 2022 will be the silver anniversary year, Coach R is going to coach in a couple of extra tournaments in the spring. Information is below.
COVID-19 and Coach R's summer work with USA Basketball has delayed the start of the 25th Anniversary Team season.
Coach R's 25th Anniversary Team:
Practice schedule:
Monday, October 11th, 7:30-9:00
Monday, October 18th 7:30-9:00
Break for school ball November 2021 – February 2022.
Season resumes in March 2022.
The SILVER Jersey – Limited To The First 30 That Register And Pay (BOLD = Purchased Silver Uniform)
8th-12th Grade Registrations (0 spots left) – With Jersey # REQUEST ONLY beside the name.
Isabella Albany (#10)
Annalee Bell (#1)
Charley Chappell (#3)
Tate Chappell (#12)
Parker Childress (#42)
Avery Corbin (#25)
Katie Deal (#20)
Kate Dennen
Navaeh Fears (#44)
Jackie Futrell (#11)
Grace Galyon (#2)
Marlena Hall (#30)
Trinity Hairston (#23)
Grace Harriman (#20)
Abigail Hoyle (#1)
Adelaide Jernigan (#10)
Caroline Lennon (#20)
Madeline Levy
Peyton Maston (#4)
Campbell McClain
Avery Ray
Isabella Ross (#24)
Ella Speaks
Emma Staples
Olivia Stone (#14)
Marissa Vernon (#03)
Sadie Quinn Wall (#5)
Those who registered for the team but aren't playing for the program this season are not listed above. They will still receive their jersey.