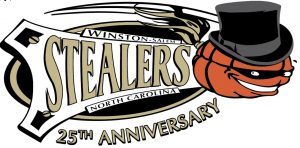 Coach R will coach a team in late April running until mid-June that will play in two SCOUTING events and then play in two COLLEGE EXPOSURE EVENTS in July.  The team will be a high school 10th/11th grade team and 9th graders can play up.
The current window to play college exposure events is July 6-12 and July 23-29.  If the window is changed by the NCAA, participants will be notified asap.
The team grades will be using the 2020-21 school year
The events typically fill early so registration for these teams is now available and will close when full.   The team will begin practicing when the 25th Anniversary Teams are finished (which will be late April).
The scouting and exposure tournaments will be played in the southeastern states (NC, SC, VA, TN, or GA).
Registration fee for the team is $300.00 for four tournaments.
The team is for those wanting additional exposure in front of college coaches away from their Winston-Salem Stealers' team.  The team will not conflict with the participant's regular W-S Stealers Travel Team.
Practice Schedule:
Tournament Schedule:
July 5-8 TBA
July 27-29 TBA
Registrations:
Charley Chappell
Tate Chappell
Parker Childress
Katie Deal
Grace Harriman
Makeva Hines
Abigail Hoyle
Adelaide Jernigan
Hannah Parker
Emma Pendleton
Isabella Ross
Ansleigh Sherrill
---
February – July Team:
Annalee Bell
Kassidy Bullins
Avery Corbin
Kate Dennen
Grace Galyon
Addison Goins
Adelaide Jernigan
Lila Kelly
Campbell McClain
Anne Overman
Emma Staples
Olivia Stone
Email Coach Robinson for more information on the February – July Team.