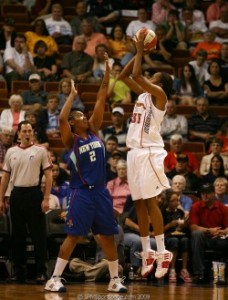 I wanted to share my thoughts on my friend Mazie Black and her daughter Chante'.  Yes, Chante' was a great Stealers' Basketball Player; probably the best to ever where our program's uniform. However, in my mind, she probably is one of the best people and they are one of the best families to come through the Winston-Salem Stealers  – ever.
Never has a player been so highly sought after by the big, major Division I colleges (Connecticut, Tennessee, Duke, UNC, etc…) in our program, and never has a player been asked to leave the Winston-Salem Stealers by so many self-proclaimed "All-Star" A.A.U. / Club / Travel Teams as Chante'.  I was there to witness most all of her career with the program and to see all of the outside influences that tried to take her away.
My dealings with Chante' and her mom began in 1999, a year after she started playing with the Stealers. Here was a girl that could run and jump and was already 6'2″ at age thirteen. Chante' was a budding superstar in an A.A.U. Program that was steadily growing.  Yet, I watched as she made the young girls in our program feel as welcome, important and loved as the older kids and never looked down on them or anyone. 
As Chante' moved into high school, many of the "All-Star" programs around the country began calling her mom telling her that the Winston-Salem Stealers couldn't do what their program could do for her daughter. These club coaches had contracts with all of the big shoe companies and told Mazie that Chante' would never become a McDonald's All-American, or go to a big-time college or even play professionally if she stayed with the Winston-Salem Stealers.
Looking back, how in the world could the program stop her, or match what others were offering her?  I remember asking Mazie why she didn't jump at the offers and her exact words were "Brian has been treated everyone in this program equally, and not given Chante' or me any special treatment just because she may have a gift. "I owe it to Brian and the program for helping Chante' grow into the person and player she is today (age 15) and we are not leaving."  You know…. people say things like that all of the time, and at the time, I was thinking that they probably were saying that for now, but as soon as something too good to turn down came along, they were out…. yet, that day never came.
Not only did Chante' stick around, but she ended up, in my mind, being, outside of Brian of course, why the program has the great reputation it has today.  Chante', as I mentioned, helped the younger kids. Chante' was in the heat of an incredible recruiting battle among colleges.  Every major school in America wanted Chante' and yet, here she is playing in Oregon and Atlanta for the Winston-Salem Stealers with eighth and seventh and ninth graders.  Chante' was getting ready to head into her senior year, and she was more focused on helping our program's next set of superstars get better as opposed to worrying about her own personal gain.  Chante' helped kids like Katheryn Lyons, Brittany Strachan, and LaShaunda Pratt become comfortable playing in college exposure events and I remember Brian telling those three young kids to never forget how they felt playing with older kids.  I later watched how those three helped out the next set of younger kids on their future travel teams grow and too become comfortable in those events in a hope that they too would pass that down.  
It was that selflessness that I remember about Chante' and her mom. A funny story about the two took place in Atlanta at the Suwanee Sports Complex. We were playing with our group of Chante' and the young kids against a team with a coach that had been calling her house on a non-stop basis for a year.  That coach was one of the self-proclamed "All-Star" club coaches that promised Chante' the world and had bashed our program. That coach had a team that had ten future DI College Basketball Players on it, all of whom were going into their senior year like Chante'.  However, they didn't play well together as they were all about themselves, and our "rag-tag" team was hanging with them. With three minutes left, the "All-Star" club received three straight technical fouls because they were embarrassed and frustrated that our team was close on the scoreboard while all of the hordes of college coaches watched in amazement.  Chante' shot and made six straight free throws and we went up by four; with fifteen seconds left we found ourselves up by seven and had the ball.  Mazie, who was a quiet fan, stood up and yelled over to the "All-Star" Coach "Hey, don't ever call my house again!", while making a phone calling motion with her hand to her ear.  That was the day I thought everything Brian had built the program on had come full circle: being patient, being honest, being confident and being prepared. Chante' exemplifies all that a leader, albeit a quiet leader, is: She goes out, no matter who is on her team, and plays believing that she can make those around her better; as opposed to those who follow, who probably wouldn't play, or use her team's age as an excuse or maybe waiting around to see first who was on the team before deciding whether to play or not. The latter is a follower, the former is a leader and Chante' was a leader.
Brian always said that he won't join any shoe company nor make promises to kids or their parents to have them come to his program or stay in his program.  Chante' Black was no exception. Chante' was and forever will be a Winston-Salem Stealer Player, and she will always be fondly remembered by me not because of the player she was, but the values she represented.  Chante' and her mom understood the value of loyalty to the program who helped them out from day one; they understood that it doesn't take a fast-talker or fancy uniforms to make a great player or program. The Winston-Salem Stealers have substance and Chante' knows she has a support group to this day. Brian doesn't believe in microwave basketball. He believes in developing the total kid, not just on the court, but off of it and he wasn't going to compromise that to keep any kid in the program.
Chante' went against the "establishment" / the "system" of the nation of girl's basketball and became our program's first McDonald's All-American, our first Women's Basketball Coaches Association's (WBCA) All-American, our program's first U.S.A. Basketball Invitee and received a scholarship to play at Duke where she had a tremendous career.  Now, she has become our program's first W.N.B.A. Player!  
Chante' and Mazie's ability to put their relationship with Brian and the members in our program over the "glitter" of "superstar" teams makes them rare and makes them special in my mind. I would hope that if the Winston-Salem Stealers were good enough for her and many other great players that come through this program, that it should be good enough for those of you with young daughters coming through the Stealers right now reading this and other stories on this page.
Some may call Chante' the greatest Winston-Salem Stealers Player ever, and it is hard to argue with them, but I say she may be the greatest person to come through here for not chasing all of the outside promises and staying with the program when nothing at all was promised to her except that the program would give her the necessary insulation and support to try to make all of her dreams come true.