THE WINSTON-SALEM STEALERS' PHILOSOPHY by Coach R:)
"Seek out those who can do something better than you can, or those who are just simply better than you are, and learn from them". = Anonymous
"The only way to do great work is to love the work you do." – Steve Jobs
Our program mission statement: The Winston-Salem Stealers A.A.U. Girls Basketball Program has an annual goal of trying to provide a developmental atmosphere inside of a competitive environment in hopes of teaching young female players positive life skills that they can take with them long after their playing days are over.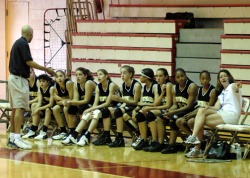 Founder's Philosophy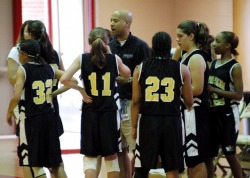 Coach Robinson's Program Philosophy and Style

The first rule of coaching: You cannot be everything to everyone and expect to be successful.
"Enjoy the little things, for one day you may look back and realize they were the big things."
"A leader takes people where they want to go. A great leader takes people where they don't necessarily want to go, but ought to be."
We must believe in luck. For how else can we explain the success of those we don't like?  – Jean Cocteau
"It's better to be alone than in bad company."
"Criticism is free advice if you use it the proper way."
My program philosophy is simple. I do what is best for our teams. I run this basketball program because I love the kids and I love the game. I want at all times to be prepared and to place my teams in the best possible position to win ball games. I will not tolerate bad attitudes just to win games. Basketball will stop one day and a good attitude is necessary to function in society, so, I don't reward bad attitudes at a young age. I believe in giving everyone an equal opportunity in practice to get better and learn the plays that we run. It takes listening, retention and transferring skills taught to earn a playing spot. Those that accomplish those tasks at a consistently high level will get the majority of the playing time. If a player takes issue with her playing time her choice is to strive to improve or find another team. AAU, like play at the high school level, and if done correctly, requires players to "bring something to the table" in order to compete. Those who feel everyone should receive an equal amount of playing time should, perhaps, consider a YMCA or recreational league as an alternative. With me , playing time is a privilege , not a right. Playing time is also not up for debate. AAU requires a high level of basketball talent and skill and the goal is to win. Like a successful business, the better jobs go to those who earn them, who have worked a long time on achieving success, who have talent they have developed, and who, in the end, are the ones responsible for the company's success. I give kids the opportunity to get better and to be successful not only at basketball but through basketball to also be successful in their lives. When it is all said and done, the relationship built through good times and bad times is what's left. How a player looks back on their experience by playing for us is important. Everyone that has suited up for us is under my umbrella. I love them all, whether they finished on good terms, as the majority, or on not so good terms, the minority. I run this program for the kids. I do AAU for the kids. Not because I have to, but because I love to. Our program has grown because of endless, endless hours of work put in for 14 years. Some outsiders say that we are good because we recruit. I can honestly say that that is not the case, and that I have personally asked 5 players in 14 years to come play for us; and those were to be part of our National Tournments when their other team was finished for their season. I don't operate that way because once you get into promising players and parents things to get them to come play for you, you lead them to false pretenses and they tend to take things for granted. It takes a special player and , more importantly, a special person, for me to ask them to come play for us. It also should take a lot more than what one parent says to another parent for someone to choose us if they have been with another team. That is a poor excuse. I think that recruiting is unethical at the prep age, and that youth coaches don't need to recruit unless they are coaching for their own personal image. What makes us any different than another program ? I am proud of the growth of the program and all of the wonderful support that I get from the majority of the parents. I know that word-of-mouth by them to others has helped the program grow. It is this , plus the hours of hard work that I can say that I will never apologize for trying to run a first – class organization. AAU is a lot of fun. When I was coaching AAU (1996-2004), it used to keep me sharp for high school season and it allowed me to provide many with the opportunity to get better before for their school season starts. I think basketball is wonderful to teach and wonderful to coach. It takes on so many aspects of life : from the adjustments that have to be made on the fly, to having to deal with many different people in a positive manner, to learning how to win graciously and how to lose even more graciously. How to handle success, how to not give up, how to compete for your position and keep it. How to handle criticism from friends, how to handle it from outsiders. How to pick yourself up when things aren't going so great and how to be mentally tough. Basketball offers so much to so many. That's why it is a great sport to teach. I love it and I am truly , truly alive when I am around the sport in practice or in a game. Kids Bring Out The Best In All Of Us.
"A sense of humor is part of the art of leadership, of getting along with people, of getting things done". – Dwight D. Eisenhower
The Fall Season Of 2004 marked the beginning of Coach Robinson turning over his AAU Coaching Duties to others, so that he can now focus on directing the program and making it bigger and better for all involved. Coach Robinson has outside responsibilities of coaching high school basketball as a head coach, and high school softball as an assistant coach, plus running his own business, 292 Basketball. However, Coach Robinson will continue to volunteer his time to keep this AAU Program a First-Class Organization.
My Foundation Of Coaching.

In March of 2008, I tried my hand at putting all of my coaching experiences onto paper. I truly believe that everything happens for a reason, and I felt as though the timing was right to try this.
Former Stealer Amanda Cross (now Amanda Brown) interned her junior year of college at Lulu.com, a self-publishing company in the Raleigh-Durham Area, and encouraged me to publish my book through her company.
A pre-copy of this book, which is 299 pages (304 total), is available beginning September of 2008 by emailing Coach Robinson at stlrzcoach1@aol.com or paying below.
A limited number of books will be available for initial sale.
What Does Having "Class" Mean?
Borrowed from The University of Kansas' Women's Basketball Program
and Head Coach Bonnie Henrickson:
Class Never Runs Scared.
Class Never Makes Excuses.
Class Is Considerate of Others.
Class Is Doing Your Best Against The Best.
Class Never Tries To Build Itself Up by Tearing Others Down.

Your Role As A Coach.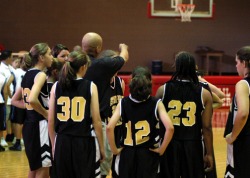 Our Roles as Coaches in Today's Society
For many years I have always pondered the issue of what our roles, as coaches, are in society. At the high school, middle school, or AAU/Club level, we don't make much money coaching even though we have a tremendous amount of responsibility influencing and guiding the youth of America. We are expected to be role models for the young students who we teach and mentor. Many times, we are the only positive adult influence a student may encounter in his every day life. Again, that is why we must hold ourselves to a higher standard and we must remain strong so that we will not fail or disappoint so many who look to us for strength and guidance.
Once this fundamental concept is accepted by us, as teachers and coaches, we can look beyond the every day life in the classroom, in the weight room, on the field, and in the gym. We can expand our horizons and reflect on what our overall role is in today's society.
What is our impact? What is our influence? In essence, and to answer that age-old human question, what are we here for? What is my purpose? When I am through with my career and I am old and retired, what was my role? What did I do during my career?
We may state many things when it comes to describing our roles as teachers and coaches that may include some of the following facts:
Roles as Teachers and Coaches in Today's Society
1)To teach and coach today's young students.
2)To do my best every day when I go to work.
3)To guide and help mold young people as they progress toward adulthood.
4)To be humble, professional, and positive every day.
5)To work to improve my knowledge of the sport I coach.
6)To teach and emphasize hard work and sportsmanship.
7)To be fair at all times with the athletes who play under me.
8)To treat others as I would want to be treated.
9)To continue to work at my profession and better myself.
10)To work with others successfully.
These are just some examples that I thought of off the top of my head that might describe what our roles are as teachers and coaches in today's society. This is something that I have put a lot of thought into as the years have passed. Whether I was coaching, teaching a class, or running my own business, I constantly thought about what I was doing and what kind of an impact I was having on and in today's society. For years, I have continued to ask myself the following questions:
1)Am I doing the right thing?
2)Am I happy with the job I am currently working?
3)Am I satisfied with my daily life and am I productive in what I am doing?
4)What kind of an impact am I having on the people who I work with?
5)What kind of an influence am I having on the young people who play for me?
6)Am I making the right choices regarding my career?
7)Am I living in the place where I want to spend the rest of my life?
8)Is this where I want to be and do I want more out of life?
9)Am I being strong for the other members of my family?
10)Am I consistently making a good effort or do I let myself slip and become weak?
These are just some of the questions that periodically I think about and reflect upon. After all of this pondering, thinking, and reflecting, I have developed my own personal philosophy of what our roles, as teachers and coaches, should be in today's society. This simple philosophy may seem basic, but when I add up all the things I think about, it all comes back to one simple thought and core belief that I have. The role that I have adapted for myself and the thing that I try and live every day of my life by, is this simple question:
Are we adding value to other people's lives by what we do?
Again, it's a simple thought and it's a basic idea. I can talk about teaching in the classroom, coaching on the field, interacting with students, working with peers, and socializing with friends, and the basic idea I always come back to is asking myself:
1)Am I adding value to the lives of the people I know?
2)Am I adding value to the lives of the students I teach?
3)Am I adding value to the lives of the students I coach?
4)Am I adding value to the lives of my relatives and family?
5)Am I adding value to the lives of the people I work with?
6)Am I adding value to the lives of the friends I socialize with?
To me, this is the fundamental question that every teacher and coach in America needs to sit down and ask. Am I adding value to other people's lives by what I do? If the honest question is "no", then you need to re-evaluate what you are doing and why you are in the teaching and coaching profession. Adding value to other people's lives has become the number one belief that I live my life by every day.
Adding value to other people's lives can be accomplished by so many methods:
1)How you influence a student who looks up to you.
2)How you talk with a friend who is going through a tough time.
3)How you answer someone when things aren't going well for you that day.
4)How you react when your team is defeated and how you learn from your mistakes.
5)How you treat your kids when they need to be disciplined.
6)How you talk with your spouse when you are tired and impatient.
7)How you do your work when you are tired and fatigued.
8)How do you treat the people you work with?
9)Am I friendly to the people I meet on the street?
10)Do I say hello with a smile, or do I put my head down and walk on by?
11)Do I let the little things during the day bother me, or am I stronger than this?
12)Do I yell at kids when they probably don't deserve it?
13)Am I humble in victory?
14)Do I run up the score on opponents?
15)Do I congratulate those who beat me and work harder for next time?
16)Am I petty in my dealings with people?
17)Am I willing to share with others, or am I selfish?
18)Do I listen, or do I just wait for my turn to talk?
19)Do I take a genuine interest in the people I know, or do I just act like it?
20)Am I phony with people or up front and honest?
21)Am I arrogant towards other people?
22)Do I think I am better than other people?
23)Do I talk down to other people when I feel they are weaker?
24)Do I take advantage of people I can intimidate?
25)Do I go out of my way to make controversy and cause problems?
These are just some of many questions you can ask yourself when deciding if what you do adds value to other people's lives. Whether I coach, work in the corporate world, or run my own business, I always ask myself if what I am doing is adding value to other people's lives.
(Borrowed from "Your Value As A Coach".)
Blazing A Trail… Doing It My Way
And now, the end is near, And so I face the final curtain.  My friends, I'll say it clear; I'll state my case of which I'm certain. I've lived a life that's full – I've travelled each and every highway. And more, much more than this, I did it my
 way.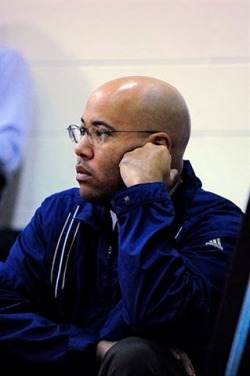 Regrets? I've had a few,  But then again, too few to mention. I did what I had to do
And saw it through without exemption. I planned each charted course – Each careful step along the byway, And more, much more than this, I did it my way.Yes, there were times, I'm sure you knew, When I bit off more than I could chew, But through it all, when there was doubt, I ate it up and spit it out. I faced it all and I stood tall, And did it my way.I've loved, I've laughed and cried, I've had my fill – my share of losing. But now, as tears subside, I find it all so amusing.To think I did all that, And may I say, not in a shy way – Oh no. Oh no, not me. I did it my way.For what is a man? What has he got? If not himself – Then he has naught.
To say the things he truly feels , And not the words of one who kneels. The record shows I took the blows  And did it my way.Yes, it was my way.(Song lyrics for the music on this page.)
---
"A job may pay the bills, but a calling feeds your soul. "Blessed is he who gets paid to exercise his obsession".